The Great Northern Warehouse has opened doors on a pop-up shop that celebrates some of Manchester's most iconic names and places.
Working in collaboration with Kitsch Republic, the temporary store will set up on Fri 12 Nov, 10am – 6pm and again on Sat 13 Nov, 10am – 4pm.
It follows an incredibly well-received installation from the homeware brand, an all-woman team based in Reddish, which recently took over the window of 285 Deansgate in a display of Northern Nostalgia.
A colourful arrangement of patterned lampshades has lit up Deansgate's main walkway since their takeover, and now the team will offer a few of their eclectic creations to buy via the upcoming pop-up, which will be located within the exhibition space.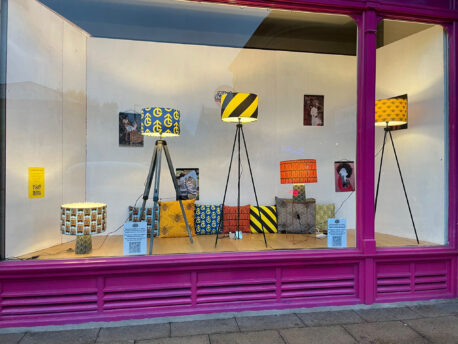 On offer will be pieces inspired by some of the city's most recognised and beloved designs, from The Peveril of the Peak's unmistakable tiles, to the hallowed stripes of the Hacienda.
Anna Dennerley, Kitsch Republic founder, said: "These designs to me are part of the city's visual language, they evoke such fantastic memories of growing up in the city, it's part of a Mancunian generation's DNA.
"We had such an amazing response to our window display that we thought it would be brilliant to open a mini pop-up shop so the locals of the city can visit and shop for themselves."
You can also check out the Kitsch Republic range online. 
A Manchester Wire Partnership post
Fri 12 Nov - Sat 13 Nov, 10am - 6pm / 10am - 4pm, 285 Deansgate, Manchester M3 4EW
Words:

Bradley Lengden

Published on:

Thu 11 Nov 2021