Opened back in 2019 by husband and wife team Kevin and Rachel Choudhary, who previously ran The Victoria pub in Altrincham, Street Urchin is billed as an English market diner and an absolute must-visit for Mancunian seafood fans.
Luckily, I'm both of those things. So off I went.
Once you've stepped inside this cosy and painfully charming little corner of Ancoats, you instantly become part of this living, breathing thing that's something far more than simple bricks and mortar. The enticing smells that linger throughout are amplified by the chalkboard scribbles of exactly what's being smoked as you enter—the dangling foliage, creeping and spilling through just about every crevice and surface available. It feels special far beyond you even have a chance to glance at the menu.
That instant impression pretty much sets the tone of what's to follow too.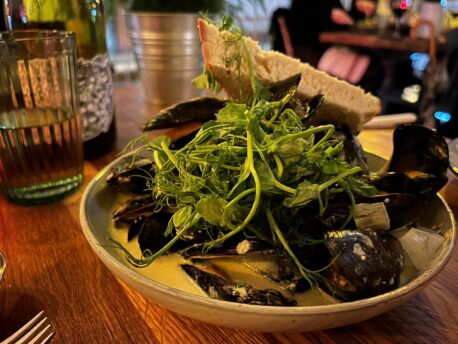 Mussels to start with, and they're huge. Absolutely massive, in fact. Cooked perfectly in a sumptuous white wine and cream sauce, if I stopped at just this dish, I'd have left perfectly content. Thankfully though I didn't do that, I cracked on.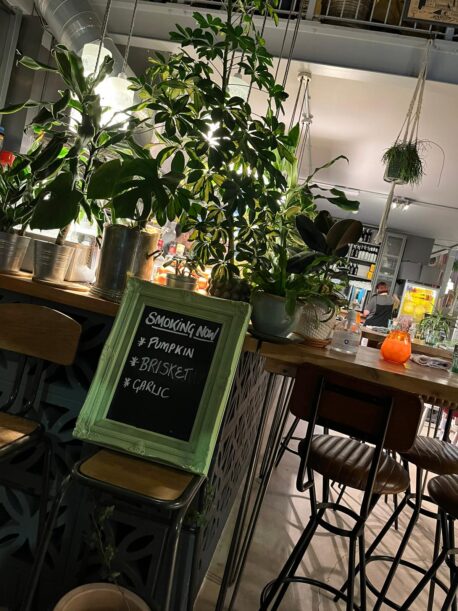 Next up, another small dish and a special for the evening—hot smoked chalk stream trout, accompanied by a beetroot and honey cream. That unmistakable smokey fragrance, the familiar one that had greeted me at the entrance, had begun working its magic long before the first bite—though once that taste test did come around, it lived up to the anticipation and then some.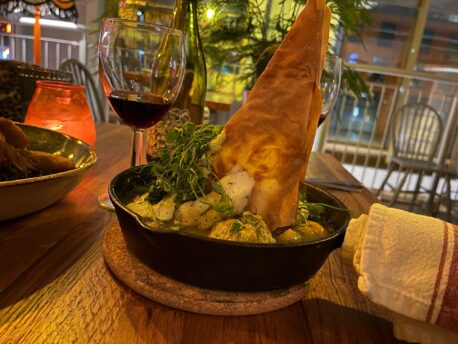 Venturing onto the larger plates, the crispy monkfish and fish kofta tagine was without any hesitation—and at the risk of sounding a little too superlative and cliché—one of my favourite dishes to date from anywhere in Manchester, and any other city I've dined in for that matter. A towering pastry triangle cascading out of the dish could run the risk of being a little showy if everything surrounding it wasn't phenomenal—obviously though, it was.
From the moment you enter, every single sense is ignited and not once does that flame ever threaten to flicker out.
Words:

Bradley Lengden

Published on:

Wed 3 Mar 2021