The Muslim Arts & Culture Festival returns this February to celebrate the great contribution of our Muslim friends and nations—at home, and to the rest of the world.
Everyone can find an entry point into this festival, regardless of background. Across the 70+ scheduled events are literature, art, history, music, performance, food, photography, comedy, workshops and debates for all ages—and that's important, because this festival was designed with inclusion in mind, as a way to bring communities together and to focus on efforts into understanding, education, cohesiveness and celebrate multi-art forms.
Hosted largely online this year due to the ongoing pandemic, MACFEST kicks off at midday on Sat 5 Feb with an action-packed hour hosted by comedian and actor Abdullah Afzal. As well as the welcome speeches, there's poetry, art exhibitions and the history of Islamic gardens.
Among the many fascinating events in the weeks ahead is a talk from Nusrat Ahmed of Manchester Museum about the Islamic collection objects set to become part of the UK's first permanent gallery to explore stories, histories, experiences and contributions of UK South Asian diaspora communities (Sat 12 Feb), and a South Asian cookery session with Ibraheem Iqbal who overcame total sight loss to became a celebrated chef (Tue 15 Feb).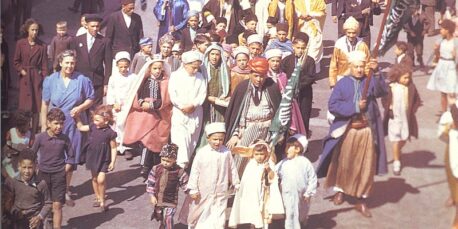 Manchester Histories head Karen Shannon and lecturer Dr Muhammad Seddon discuss the oldest Muslim community in Britain (Thu 24 Feb), Jake Benson opens up the treasured Persian manuscripts in the John Rylands Library (Sat 2 Apr), and the House of Wisdom highlights the amazing contributions of Muslim scholars, inventors and scientists to modern civilization (Sun 26 Jun).
Younger generations have also played a key role in the festival's programming, with students across the North West invited to celebrate their cultural heritage, perform poetry, practice the art of calligraphy and discuss vital subjects like climate change.
For the first time, the event has added the Muslim Women's Arts Festival too, which opens on Sat 5 Mar in the Whitworth Art Gallery's Grand Hall. It's the first of its kind anywhere, programmed by the Muslim Women's Arts Foundation. The Whitworth will be its practical hub throughout the day, this will include a marvellous line-up of female talent with art exhibitions, women and children's activities, poetry and performance by Anamika Group and Turkish Folk dance. The women's festival ends with a marvellous musical finale taking place at The Lowry on Sun 20 Mar.
In the months ahead, Ramadan and Eid are both marked with several fun events, and with contributions from as far afield as Algeria, Australia, Azerbaijan, Canada, Dubai, Indonesia, Pakistan, Sudan and the USA this festival really is a triumph of togetherness through cultural curiosity. For more information about the festival and what's coming up, visit the MACFEST website.
A Manchester Wire Partnership post
Sat 5 Feb - Sun 18 Sep
Words:

Sarah Walters

Published on:

Fri 28 Jan 2022