Cotton On MCR are kicking on with their mission to showcase the incredible array of artistic talent we have right here in Manchester this spring.
Fresh from another hugely successful Art All-Dayer at Hallé St. Peter's, up next is the In Manchester exhibition in 100 Barbirolli Square, dedicated to making art more accessible to the people of Manchester, while offering a huge platform for artists of all levels.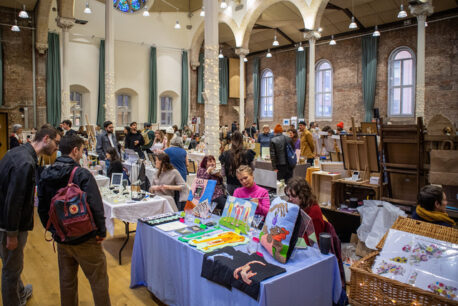 The In Manchester exhibition returns to champion some of the city's most exciting creative eyes. Taking over a whole floor in Barbirolli Square from Thu 19 May – Sun 5 Jun, Cotton On MCR have issued an open call for local artists to get involved and flood the walls with incredible pieces in a true celebration of all things Mancunian.
Free to attend, visitors will have the chance to find out a little more about the work on display, with artists hosting talks throughout the course of the exhibition.
Whether you're a full-time artist, student or just enjoy the occasional doodle, the In Manchester exhibition offers a unique, level platform for all aspiring creators to get their work seen—the only requirement is that you're living, working or studying in the city. Applications for the event are open now and the deadline to submit is Fri 25 Mar—find out more about getting involved here.
A Manchester Wire Partnership post
Thu 19 May - Sun 5 Jun, 100 Barbirolli Square, Manchester M2 3AB
Words:

Wolf McFarlane

Published on:

Thu 10 Mar 2022