The BAC Beatbox Academy is set to deliver a jaw-dropping showcase of musical talent at Contact Theatre this May.
A collaboration between the academy and Battersea Arts Centre, Frankenstein: How to Make a Monster is a blistering display of vocal experimentation ranging from spoken word artistry to technical beatboxing magic, with six ingenious creators reimagining Mary Shelley's novel in a modern context.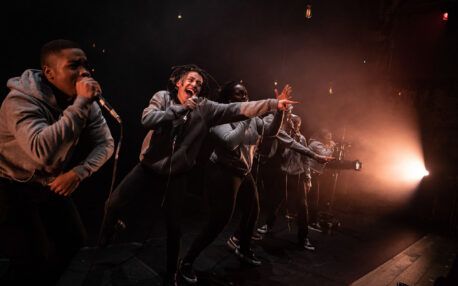 Two hundred years on from Frankenstein's publication, BAC Beatbox Academy's lineup of Aminita, Glitch, Wiz-RD, ABH, Native and Aziza will construct incredible soundscapes using only their mouths to explore the present-day circumstances that can turn somebody into a monster.
The show has been garnering rave reviews since its inception–"It's not often that a piece of theatre made by and with young people in their teens takes centre stage at the Traverse during the Fringe, and scores a massive hit with both audiences and critics." Wrote The Scotsman, while The Times simply summarised "It's so good you don't want it to end."
A unique blend of beatbox, gig and theatre, audiences will have six chances to catch the show, which runs from Tue 10 May – Sat 14 May. Tickets are on sale now and you can grab yours using the button below—PS use the code FRANK4WIRE to save £5 when purchasing, too.
Image credit: Joyce Nicholls
A Manchester Wire Partnership post
Tue 10 May - Sat 14 May, Contact Theatre, Oxford Rd, Manchester M15 6JA
Words:

Wolf McFarlane

Published on:

Thu 24 Mar 2022