Bluedot is back for 2020 with a twist. The award-winning intergalactic, music, science and culture festival has been held annually at Jodrell Bank Observatory in Cheshire since 2016. However like many other events, this year's had to be cancelled due to the current pandemic. In its place, the team at Bluedot have something very special in store – a Weekend in Outerspace. From Friday 24 to Sunday 26 July a free-to-view virtual experience will be taking place online. Still filled with all the live music, culture and science talks synonymous with the festival.
The three-day extravaganza will feature live performances from Anna Matronic's Deep Space Disco, Roni Size, Orbital, Daniel Avery and many more. A special broadcast of Bury band Elbow's legendary Jodrell Bank show from 2013 will also be streamed as part of Sunday evening's broadcast. Plus viewers can get involved with afternoon album listening parties courtesy of The Charlatan's frontman Tim Burgess – including records from New Order, Metronomy, and Ibibio Sound Machine.
The weekend will packed with fascinating interviews and panel discussions from the likes of Brian Cox, Jim al-Khalili and Ann Dryuan – and there'll be fun for all the family with shows from Clangers and Nordoff Robins. Manchester band and Bluedot favourites Henge, will open and close the weekend with their performances illustrating the 'journey to outer space' and then 'back to Earth'. The event will be free to view via the official site with things kicking off from 7pm on Friday 24 July. To find out more about this 'Weekend in Outerspace', Bluedot 2021, plus how you can donate to support Jodrell Bank head to the website via the link below.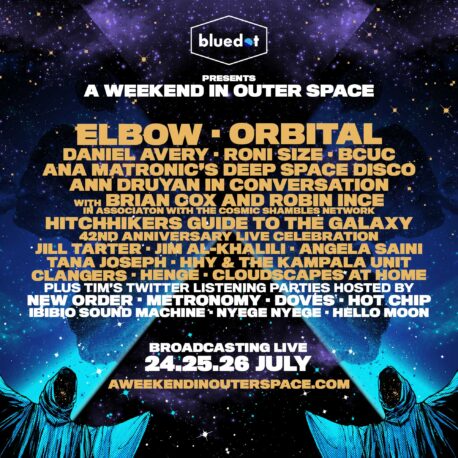 Words:

Cat Allan

Published on:

Tue 21 Jul 2020