The Creameries has built one hell of a reputation over the last couple of years, the Chorlton institution regularly topping the recommendation lists of 'in-the-know' foodies all across the city.
Naturally then, their big unveiling of a brand-new identity had us immediately counting down the moments until we could get our first glimpse at what this new era had in store.
Now going by the title Campagna at The Creameries, tasting menus have been switched out for a celebration of southern European cooking, with owner Mary Ellen McTague taking a well-earned step back as head chef Mike Thomas emerges in the limelight, offering up the same commitment to impeccable quality and ingredients, only on a much more accessible level for everyday dining.
Fresh bread plays a leading role in the rebrand, and that's exactly where we begin…and we're off to a flyer. Baked to perfection, a generous slab of Focaccia emerges before me, soft, impossibly fluffy and glistening below the soft lighting of the intimate dining space.
That's swiftly followed by the Panisse; essentially a posh golden chip crafted using chickpeas, flour and butter—like regular chips, they're dangerously addictive and I want them to accompany every meal I have forever now.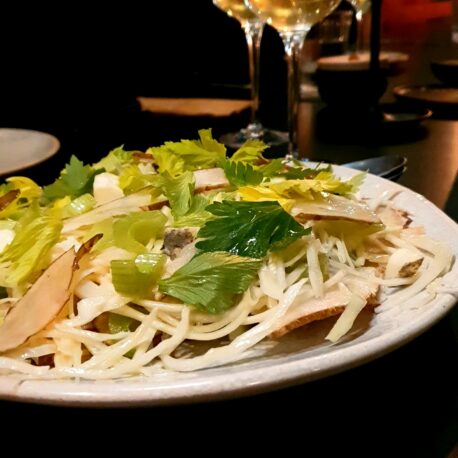 Up next, two winter salads that brought the biggest surprise of the evening. Roast Jerusalem artichoke with shredded cabbage, celery, Yorkshire pecorino and truffle oil followed by Roast candy beetroot with kohlrabi, apple and salsa di cren (horseradish). Now, I'll be honest, I've never really bothered with salads in a restaurant setting—maybe it's a little 'uncultured' but on the whole I've always struggled to get excited by them. The biggest compliment I can pay here, is that I would abandon that attitude in a heartbeat to have either of these fresh, fragrant flavour combinations again.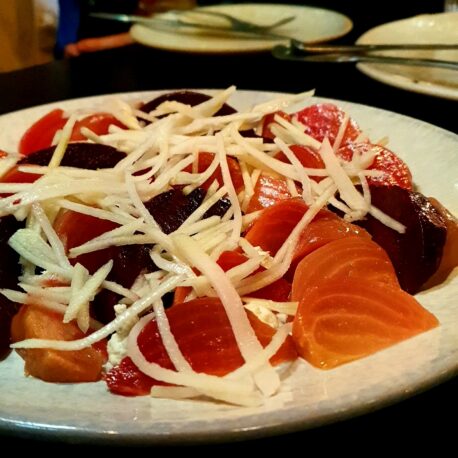 Onwards to the streamlined pasta section, there's beef ragu, a particular point of excitement given the restaurant's new direction. On the surface, this isn't reinventing the wheel—it's a staple for most pasta specialists. What it does do though, is take all these flavours you think you associate with good pasta and good sauce and amplify them all by a thousand.
These huge, flowing ribbons of pasta, each more coated than the last in this incredible ragu—think more gravy than tomato—it's a stunner of a dish, one that was only hampered by my own internal battle of not wanting it to end, but simultaneously not wanting it to go cold as I rationed each forkful.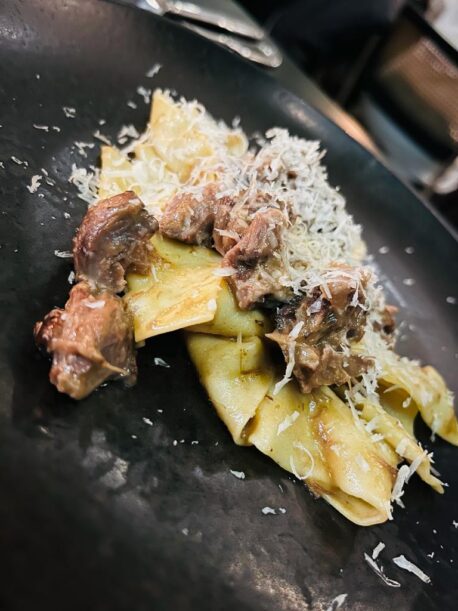 This is undoubtedly my personal highlight. There's something pretty magical about great pasta—painfully simple, it's just flour and eggs after all—but get it right and it's enough to trigger some mad, outer-body experience at the table.
For anyone wanting to make dinner that bit more substantial, the Confit duck leg with prunes, puy lentils and watercress is yet another masterclass in culinary combinations. The crispiness of the duck skin, the indulgent rich plumbness of the prunes, it complements perfectly. Of course it does.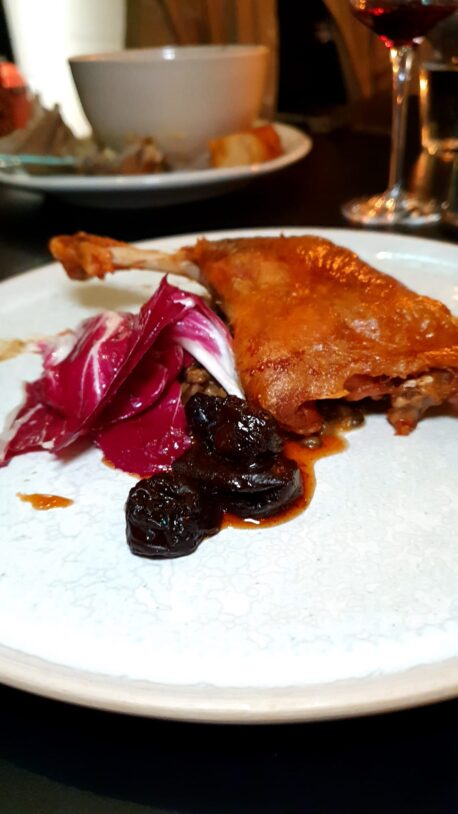 Everything blends together perfectly, each new flavour flowing seamlessly into the next—to call it effortless would be a gross injustice to Mike, but that's how it felt, in the best possible kind of way. Nothing is forced, if a dish doesn't need something it steers clear, meaning whatever it does need, is consistently brilliant.
How he manages to squeeze every last ounce of flavour from these often incredibly simple ingredients is nothing short of mesmerising. I've sat here thinking about how beetroot—let's face it, hardly the most exciting piece of produce—can be that good for over a week now, and I'm still no closer to working out how he's managed it.
Tue 15 Feb, Campagna at The Creameries, 406 Wilbraham Rd, Manchester M21 0SD
Words:

Bradley Lengden

Published on:

Tue 15 Feb 2022