The ongoing discussions surrounding a brand new urban park set to take over Castlefield Viaduct appear to have moved one step closer to becoming a reality.
In a press release, Castlefield Forum confirm that The National Trust has received approval from Manchester City Council for a temporary planning application to open Castlefield viaduct to the public from next summer.
The conservation charity had previously revealed plans to transform the space into a temporary urban park—much to the delight of locals desperate for more green space in the city centre—to test ideas and gather feedback from its visitors to help determine the long-term future of the 330 metre long Grade II listed structure.
The initial plan is to open the viaduct next summer for a year as a temporary urban park experience. The Trust plans to use the 'pilot' year to discover how visitors use the space, understand which plants will grow best on the viaduct and to gather further feedback on how best to utilise the unique space.
Entry to the temporary urban park will be free, though a booking system will be in place to help manage numbers. As part of the opening, visitors will have the option to join a guided walk along the viaduct.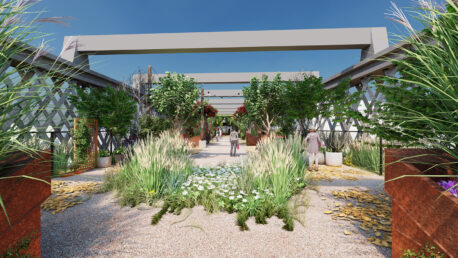 The centre of the viaduct will be transformed by plants and foliage, which will help attract wildlife and vital pollinators. Artists will also be invited to display their work in the space and an undercover area will offer much-needed shelter from the unpredictable Mancunian elements.
Duncan Laird, Head of Urban Places at the National Trust, says: "We're delighted that our temporary planning application has been given the green light by Manchester City Council. It's a positive step towards realising our plans, and those of our partners and supporters.
"Earlier this year we invited the public to share their thoughts and give feedback on our plans to open the viaduct as a temporary urban park. We were encouraged by the positive response we received with so many people sharing our excitement about the potential benefits the viaduct could have on the area and those who live locally.
"We're still in conversation with a number of key organisations whose support we need to make this a reality for Manchester, but we're looking forward to sharing more news on our plans and progress in the New Year."
For the latest developments surrounding Castlefield Viadcut, keep an eye on the National Trust website.
Image credit: National Trust
Wed 1 Jun, Castlefield, Manchester M3 4PU
Words:

Bradley Lengden

Published on:

Wed 24 Nov 2021