Planning permission has been granted to demolish part of the concrete wall in Piccadilly Gardens, a feature that has long been hated by Manchester residents. Approximately £2million of Manchester Council's budget will be put behind efforts to remove the curved section of the wall that divides Parker Street bus station and Piccadilly Gardens itself. The news marks the start of the long-awaited process of removing the much-despised wall, which started life as part of a redevelopment process but soon came to be dubbed the 'Berlin Wall' due to its cold and modernistic design. In the years since, the area has become a hot spot for crime, drug dealing and violence in the city centre, leading to many calling for its permanent removal.
This recent announcement will also include plans to re-evaluate and revamp Piccadilly Gardens over the coming years. "I'm thrilled that the planning permission was granted without problem," says Labour Councillor Jon-Connor Lyons, speaking exclusively to Manchester Wire. "The wall coming down marks the first step in the transformation of Piccadilly Gardens. People have complained about the wall for years and I'm glad we've been able to address those concerns by finally getting planning permission to tear down that wall. The space needs drastic change and we need to get that change right." At the time of writing, no time-scale for the removal of the first part of Piccadilly Gardens' concrete wall has been revealed – but be sure to check out for further details when future announcements are made.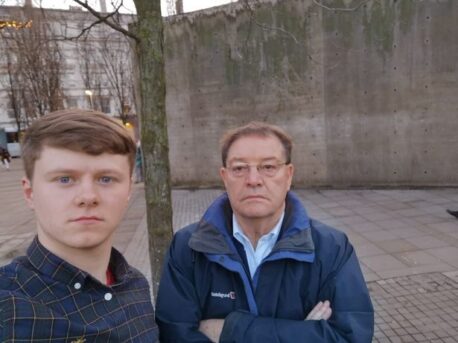 Councillor Jon-Connor Lyons (left) with Councillor Pat Karney (right) in front of Piccadilly Gardens concrete wall earlier this year.
Fri 14 Aug, Photo © Gerald England (cc-by-sa/2.0)
Words:

Simon Bland

Published on:

Fri 14 Aug 2020