A brand new piece of the Eden Project has moved a step closer to arriving in the North after councillors in Lancashire granted planning permission for the £125m eco-development
Hoping to open on Morecombe Promenade, Eden Project North promises to '"reimagine the British seaside resort for the 21st century".
The ambitious space will be divided up into four distinct areas: Above the Bay, focusing on plants, art and life linked to the sun, Below The Bay showcasing immersive theatrical experiences inspired by the tides and lunar rhythms, The Natural Sanctuary featuring bookable wellbeing treatments and The Natural Observatory which will house the venue's educational output.
Each of these new spaces will be connected by a series of bespoke architectural designs linking the Eden Project North with its Morecambe Bay home.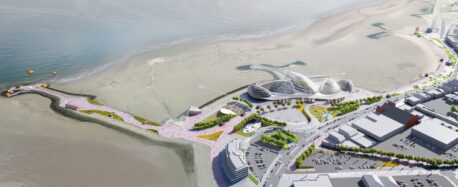 David Harland, the chief executive of Eden Project International, said: "The project is now definitively shovel-ready and a compelling financial case has been made to government. We are primed and ready to create this beacon to a green and sustainable future, be part of 'levelling up' and drive economic and social enhancements across the region.
"While we are incredibly proud of what we and our partners have achieved so far, we now need UK government support to quickly bring this to fruition and maintain momentum."
The next stage for the project will be to secure funding, £70m of which the team hopes to secure in public money towards the overall £125m target.
Image Credit: Eden Project
Mon 1 Jan
Words:

Bradley Lengden

Published on:

Mon 31 Jan 2022