Yet another great name has been added to the bounteous list of all-vegan restaurants we so confidently boast in this city. Herbivorous, which specialises in vegan streets eats with buckets of flavour, is saying 'so long' to its little hut at Hatch, and is moving to its first ever bricks and mortar building this Autumn.
Noticeable by the adorable green dinosaur waving outside, Herbivorous has had a permanent spot in Hatch on Oxford Road for around two years, serving some of the best plant-based food on that side of town. But, the Herbivorous journey actually started much earlier, when founders Robyn and Damian travelled the USA, tasting meat-free meals that just couldn't be found in the UK at that time. Inspired by the vegan options over the Atlantic, the pair set off on a tour of the UK festival circuit in attempt to deliver similarly indulgent plates with their own stamp on it.
Since setting up shop at Hatch, the team have showcased meals such as the Big Kahuna Burger – admirably inspired by Pulp Fiction – which contains a grilled teriyaki-glazed patty, served with melted cheese, seitan bacon, sriracha, coriander mayo and a big ol' slab of pineapple. Our personal favourite has always been the crispy duck wrap – made with homemade hoisin sauce, and so giant you needed both hands to hold it.
Now, after a colourful rebranding and a new site in South Manchester, it seems like their menu will also be just as impressive. Using only sustainable and ethically-sourced ingredients, Herbivorous will be dishing up vegan comfort food brilliant enough to make even the meatiest of meat-eaters envious.
Guests can also indulge in local beers, wines and specially curated vegan cocktails, thanks to local partnerships with the likes of Drizzle City Bakes and Manchester breweries, as well as a tantalising new brunch menu – all 100% plant-based.
What's more, the team will continue to run their masterclasses and workshops from the new space, enabling locals to learn how to create their own vegan mayo, plant-based chicken alternatives and so much more. Having developed their menu for over four years, we reckon they know what they're talking about.
Herbivorous is due to open in Withington this September on Wilmslow Road, and will be open weekday evenings and all-day Friday to Sunday.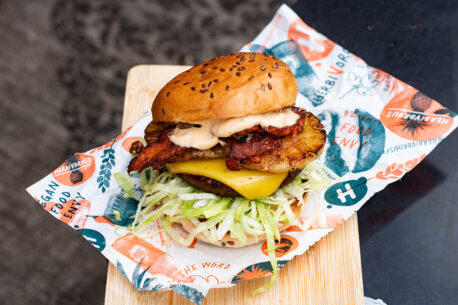 Words:

Sophie Cunningham

Published on:

Thu 15 Jul 2021