Over the last five years, the Hatch's outdoor food and booze party has become a major draw on Oxford Road – and its current evolution the biggest yet. Six new traders join the fray this year and the all-outdoor seating area seems almost designed with Covid-19 social distancing in mind.
Levant-inspired MorMor is one of the most exciting newcomers for 2021, serving up award-winning shawarma and shakshuka, while Oh My Cheesecake (see pic) is all about cheesecake on a stick. You can make your own, or go readymade like this Oreo edition (£6). Biscuit and Brew's trademake bakes include the cookie-brownie hybrid 'Brookie' and Biscoff Rocky Road (honestly, like a Caramac in a cake – its fantastic). Other newbies are record store and listening café, 1210 from indie record label, Stutter & Twitch, gender-neutral nail bar It's a Nail Thing, and Butterfly Effect Lashes.
I brought my four kids along to put the traders through their paces, and tried to order stuff that everyone (15 months to 44 years) could eat. Grandad's Sausages were a hit: we had a classic and and a spicy one, both great value at £6. They're made to a secret recipe and available in packs to cook at home from General Stores.
Ate Days a Week is a Stockport-based gourmet sandwich maker, new to Hatch this year. I'm proud to say we were the first customers to order their peanut butter, jelly and marshmallow toasted brioche (£4.50). We also tried Sicilian arancini vendor T'Arricrii's special nduja edition (£6, available for only one more week) which is the best thing I've eaten since lockdown lifted.
Long-term residents, Ol craft beer bar is an institution to rival Hatch itself. ; I went for a classic Cloudwater West Coast IPA (£5). Other options include Alhambra reserva from Abeja tapas bar and a massive range from Hatch's own bars. For the soft drink fan there's Sicilian Polema sparkling blood orange.
One of Hatch's most popular vendors is Herbivorous Foods; a fast vegan food concept, specialising in seitan 'chicken' burgers (£8), served in the traditional style and cashew 'cheese' loaded fries (£5.50). These were a welcome antidote to the chickpea curries that have become the norm at home.
During non-Covid times, you can just pop in and dine whenever you like, but for the time being, outdoor table bookings are a must. To secure your slot, visit the website here (or click on the QR code outside) and book a table for up to 2 hours for up to 6 people. You then order via the QR code link on your table.
My only criticism is that the web portal you order through won't let you pick out dishes from different vendors and then pay for them all at the end; you have to buy from each vendor one at a time. It would be cool to be able to order from whoever you like, but otherwise, no complaints. Perfect location, awesome drinks, great food, soundtrack and just great to see other humans you've not been staring at for the last 18 months. Thank you Hatch.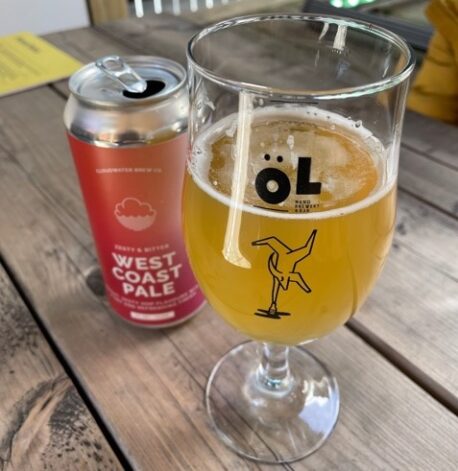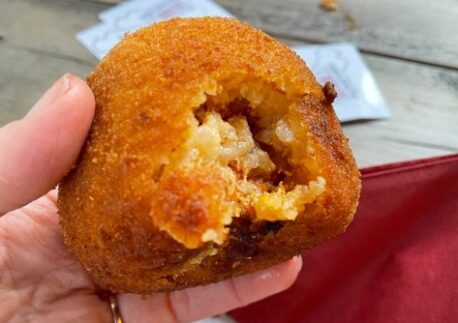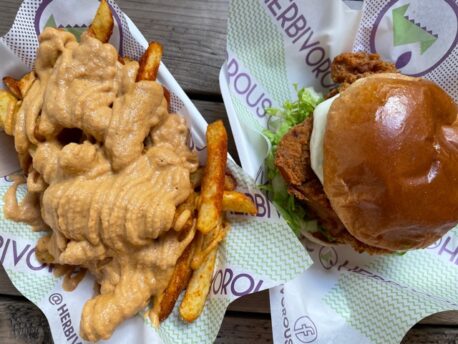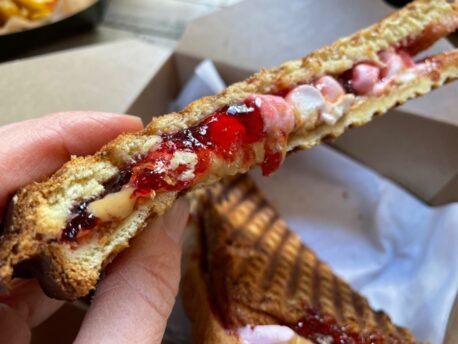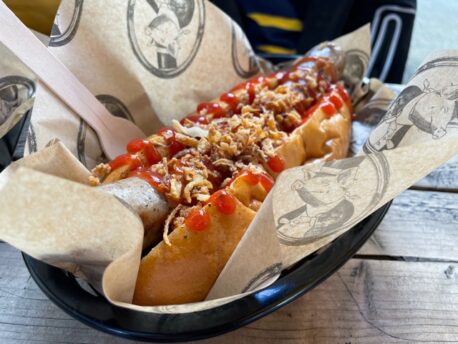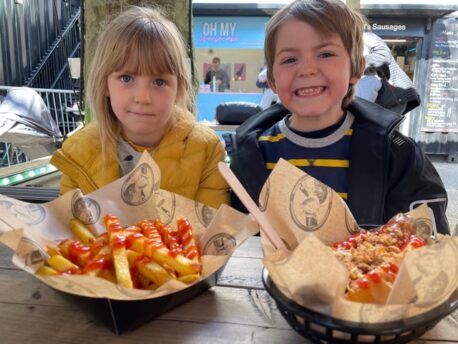 Wed 21 Apr, Hatch, 103 Oxford Rd, Manchester M1 7ED,
Varies

hatchmcr.com
Words:

Ruth Allan

Published on:

Tue 20 Apr 2021