The hugely-acclaimed BAC Beatbox Academy has arrived at Contact Theatre for a staggering showcase of musical talent, inspired by one of the most famous tales of all time.
The 'BAC' stands for Battersea Arts Centre, who house the young performance collective which acts as a diverse, inclusive community outreach initiative dedicated to developing skills and confidence with beatboxing at its core. The academy features highly decorated vocalists at the helm, like UK Beatbox Champion ABH.
Below, we've highlighted a few reasons why this wildly unique production is an absolute must-see in the Contact Theatre calendar.
Why Frankenstein?
As young creatives around the same age as Mary Shelley when she wrote Frankenstein 200 years ago, the BAC beatboxers deftly explore how modern society creates its own monsters, delivered through a prism of youthful defiance. Racism, classism, economic and social alienation in a screen-dependent age and the timeless pressure to conform all contribute to the narrative throughout. 
Why Beatboxing?
The BAC Beatbox Academy co-wrote the show from scratch, as a talented unit that has carved out a unique creative identity via one of the most inexpensive methods there is. Beatboxing allows young people to express their views, unabridged and impossible to misconstrue, without the cost of equipment or formal tuition.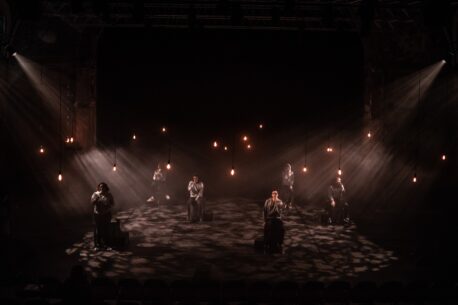 Why is it different to other shows?
As proven by previous shows, Frankenstein receives incredible audience reactions as just reward for the Academy's prioritisation of the viewer. Alongside fresh, captivating content through an unfamiliar form, all performances are 'relaxed'—those in attendance are encouraged to engage with the show as they wish, similar to an intimate gig, with phone recording, stomping, shouting and unscheduled toilet breaks all encouraged.
The company's personal journeys
Each member of BAC Beatbox Academy arrived with their own story of adversity and disaffection in their youth. Joining over a decade ago aged just 14, Glitch (Nadine Rose Johnson) couldn't afford music lessons before she followed her brother into the beatboxing community, where she was free to adapt the music she loved into a distinctive vocal style. Today, she co-ordinates BAC's x2 academies while facilitating sessions for the next generation of beatboxing.
Tickets are on sale now, you can grab yours using the button below—our readers can even save £5 by using the code FRANK4WIRE when purchasing.
Image credit: Joyce Nicholls
A Manchester Wire Partnership post
Tue 10 May - Sat 14 May, Contact Theatre, Oxford Rd, Manchester M15 6JA
Words:

Wolf McFarlane

Published on:

Thu 21 Apr 2022