Manchester's iconic celebration of acceptance, Homobloc, has teamed up with multidisciplinary artist Corbin Shaw to host a charity auction to support the festival's fundraising efforts.
The series of works—which includes largescale flags and special merchandise which was showcased at the last event—explore the performances of masculinity in heteronormative spaces dominated by men.
Each flag features messages of love, and were paraded on stage by performers during the festival which took place earlier in November.
Now, with the celebrations on hold until next year, the flags will be auctioned in collaboration with Guts Gallery. All proceeds will go towards Homobloc's growing pot and ongoing fundraise to support the queer block party's amazing LGBTQIA+ charity partners – George House Trust, LGBT Foundation, akt – (previously the Albert Kennedy Trust), and ALL OUT.
On his work with Homobloc, Shaw said: "Now the glitter and dust has settled, the flags have stopped dancing in the wind and my brain is slowly patching itself back together. This weekend was one of the most surreal moments I've ever experienced. From three years back writing some of those phrases in my notebook to seeing them flying through the air on stage at Homobloc."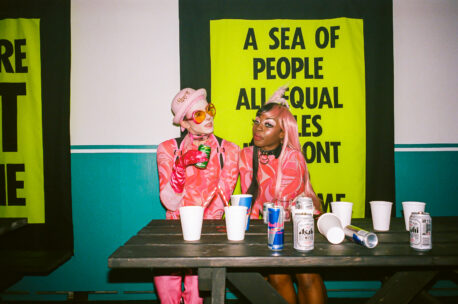 It was the first time I'd ever shown my work back in the North. I returned home from a life-changing weekend a changed man. I told my parents of everything that had happened and cried my eyes out at how proud of myself I am. I've always found it difficult to say that out loud. I felt a real sense of belonging amongst everyone in that crowd. From feeling rejected and outcasted by lads at football, to returning back to the North with messages of love on flags like the ones I based them on at the matches. Such an incredible full-circle moment.
I love you all and thank you to all the people I met and how you made me feel this weekend."
The online auction is now open and will close on Sat 11 Dec. You can check out the items for sale here.
Image credit: Rob Jones / @hirobjones
Wed 17 Nov - Sat 11 Dec
Words:

Bradley Lengden

Published on:

Thu 18 Nov 2021