Manchester's iconic "non-stop off-piste dark discotek for homos, heteros, lesbos and don't knows" HomoElectric takes over all three floors of Hidden this July and has now unveiled a huge lineup ahead of the show.
After promising DJs from all four corners of the world shop, Manchester, Ibiza, London and LA, organisers have most certainly delivered.
Victor Rodriguez (one half of Bears in Space) and his husband Perfect Lovers will be joined by the likes of Guy Williams, Demi Riquisimo and Lulah Francs, along with a performance by Ghetto Fabulous.
Local Rousin W will be debuting at HomoElectric and residents Gina Breeze, Jamie Bull and Lukas will of course be on-hand to keep the party moving. Tickets are on sale now, though they're apparently 75% sold out, so you'll have to act fast.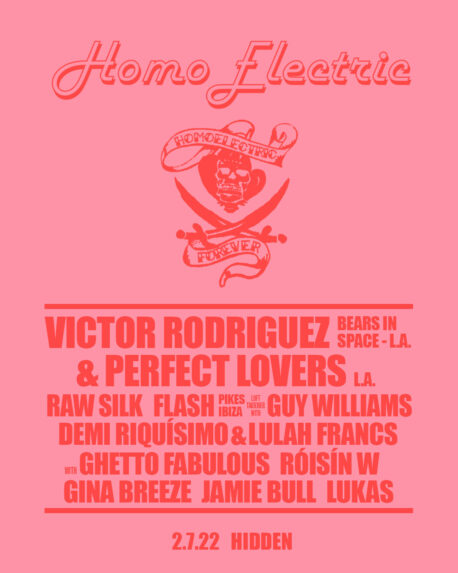 HomoElectric has also announced another date to coincide with Manchester Pride weekend, on Sun 28 Aug. Advance tickets for that show are on sale now.
Sat 2 Jul, Hidden, 16-18 Mary St, Cheetham Hill, Manchester M3 1NH
Words:

Bradley Lengden

Published on:

Thu 14 Apr 2022