One in two of us will be diagnosed with cancer in our lifetime—however, the incredible advancements in both detection and treatment mean more of us are living longer and better lives in spite of the disease.
The Science and Industry Museum's world-first exhibition, Cancer Revolution: Science, innovation and hope, explores how at this pivotal moment, new technologies are being implemented and developed to significantly advance our ability to combat cancer.
In a new blog, Alison Crook, Associate Curator at the Science and Industry Museum, shines a light on Manchester's leading role when it comes to innovation both past and present in potentially life-saving treatments.
The 'Manchester Method'
Before the discovery of X-rays in 1895, surgery was one of the only options available to cancer patients. Once it was understood that radiation could kill cancer, X-ray treatment became increasingly common, though its effects were restricted to cancer on or near the surface of the skin.
Marie and Pierre Curie's discovery of the radioactive element radium in 1898 completely changed this as it was stronger than previous sources, and crucially, could be implanted inside the body to reach deeper tumours.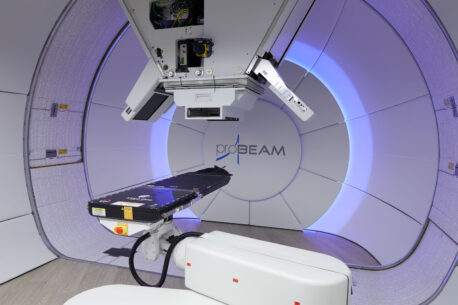 Proton beam therapy 
The Christie has been consistently amazing in terms of both research and treatment of cancer, and hosts the UK's first NHS high-energy proton beam therapy centre. A relatively new form of radiotherapy, the treatment causes less damage to tissue and allows a faster recovery with fewer side effects.
CRUK Manchester Institute – TRACERx 
Professor Caroline Dive and her team at the Cancer Research UK Manchester Institute are working on a project called TRACERx—a less invasive way to track and monitor spreading cancer. The new method uses 'liquid biopsies' to hunt cancer cells that have broken free from tumours, which the team can then analyse to better plan patient treatment.
CAR-T Cell Therapy at The Christie
CAR-T cell therapy is a revolutionary new form of cellular immunotherapy treatment used by The Christie. The method has become a standard therapy for some types of blood cancer and is now being used in clinical trials for patients with certain solid tumours.
It involves patients' immune cells being collected from their blood and being 'retrained' with gene editing before being returned to the body better equipped to target and treat cancer cells.
Targeted lung health checks – Wythenshawe Hospital
Another pioneering scheme is being shaped right here at Wythenshawe Hospital. Led by Dr Philip Crosbie and his team, it uses targeted screening to uncover lung cancer in those most at risk.
During initial trials between 2016-2018, more than 2,5000 people took part by taking a breath test and answering a health questionnaire. Around half of those involved were offered an immediate CT scan and 61 cases of lung cancer were detected.
Delve deeper into Manchester's influence in cancer research at the Science and Industry Museum's free exhibition Cancer Revolution: Science, innovation and hope, which is around until March. Grab your tickets using the button below.
A Manchester Wire Partnership post
Fri 22 Oct - Sun 27 Mar, Science and Industry Museum, Liverpool Rd, Manchester M3 4FP
Words:

Bradley Lengden

Published on:

Mon 17 Jan 2022