Looking for a half-term activity that provides kids and parents alike with a fascinating glimpse into some of the most important moments in modern history? People's History Museum (PHM) has you covered and then some.
Open right throughout the February break with a whole host of family-friendly displays, the museum will present defining moments from a variety of eras that have shaped democracy throughout the years.
The brand new 2022 Banner Exhibition plays a key role in PHM's latest programme, delving into groundbreaking moments of protest through a vibrant, creative display of banners each with its own astonishing story of rebellion.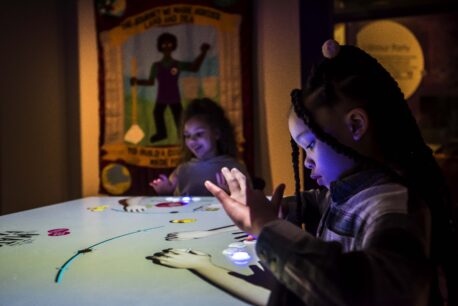 Three different interactive family trails also offer the perfect way to immerse in the museum. PHM's Passport Trail is designed for children aged 9+ and their families to discover stories of migration as a refugee, asylum seeker or economic migrant. More in common: in memory of Jo Cox offers an incredibly impactful insight into the life, legacy and values of the MP through a trail specially created for ages 5-10. Finally, I Spy, suitable for anyone aged 5+, will challenge visitors to follow clues around the museum to find hidden treasures.
Anyone stopping by will be able to refuel at the museum's Open Kitchen Cafe & Bar, where sustainability is at the forefront of the ever-changing menu. The kitchen's talented chefs craft both innovative and classic dishes, working with local, ethical suppliers and seasonal produce. Even better, kids can dine on the lunchtime menu from just £1.
Usually open Wed-Sun, PHM will open for seven days for the weeks commencing 14 Feb and 21 Feb for the first time since the pandemic began. Entry to all exhibitions is free with a suggested donation of £5.
For more information, visit the museum's website. 
A Manchester Wire Partnership post
Sat 12 Feb - Sun 27 Feb, People's History Museum, Left Bank, Manchester M3 3ER
Words:

Bradley Lengden

Published on:

Mon 7 Feb 2022