Sale's brand new Foodhall is now open. The 5,500 sq ft community hub on Stanley Square in Sale town centre is home to three food vendors, a bar, a large dining and drinking space and retail offering.
The space is the latest addition to the Store Group portfolio, and is similar to that of the vastly successful Foodhall in neighbouring Stretford.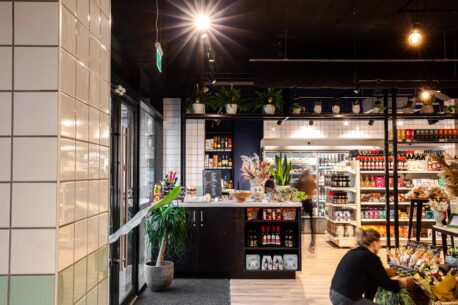 The Stanley Square spot has space for a rotating indie food vendor, plus the much-loved artisan pizza experts Basillico, and proper tasty burger-slingers at What's Your Beef have joined the line-up as permanent residents. The first temporary trader to join the Foodhall family are Cyprus Kousina, serving authentic and beautiful Cypriot cuisine until the end of December.
A curated retail experience also forms part of the venue, boasting an impressive range of artisan goodies from independent producers and suppliers. The focus in this store is specialist treats with a new range of charcuterie, cheeses and olives, just in time for Christmas. There's also a huge booze selection, with craft cans and natural wine specialists Le Social also stocked in the retail space.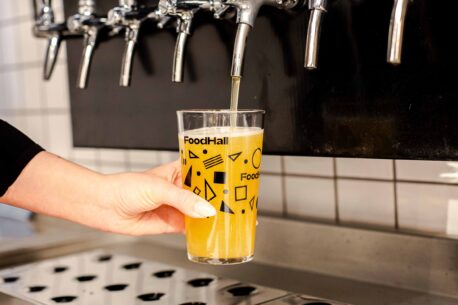 The new unit will also have a bar pouring local craft beers, wine and spirits, a coffee shop with bakery unit, plus General Store's trademark 'cornershop' retail space. The flexible spaces will promote a variety of uses for the local community, from pop-up retail spaces, to informal classes – welcoming locals from morning until night.
Household essential refill stations are also on-site, encouraging customers to fill up on washing liquid and store cupboard staples with zero waste.
CDS Willman, award-winning design & build specialists for the hospitality sector, have been drafted in to lend their creative eye to the unique venue.
Photo credit: Adam Pester
Thu 18 Nov, Sale Foodhall, Stanley Square, Sale Manchester M33 7WZ
Words:

Bradley Lengden

Published on:

Fri 26 Nov 2021