Combining Jewish heritage with forward-thinking culinary creations, Manchester Jewish Museum's new cafe has a menu that ticks all the right boxes.
Serving up contemporary 'kosher-style' vegetarian dishes the cafe champions both local produce and authentic Jewish ingredients all of which have been shaped by three principles of Jewish food: evolving recipes, meals to nourish and sustain, and dishes that bring people together. 
Whether you're settling down to reflect on your visit over a hearty bowl of lentil soup, or you want something a little more on-the-go, like a coffee from local Jewish-owned business Abe & Co or a selection of homemade and locally sourced Kosher cakes, the museum's cafe has you covered.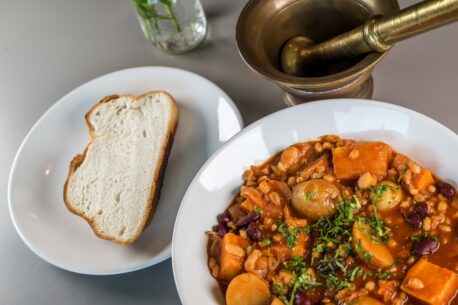 By working with local suppliers and using ethically-sourced vegetarian produce, the team at the museum cafe seeks to make meals that blend together sustainability, value and of course, taste. The menu is inspired by Ashkenazi and Sephardi style recipes, with the latter paying homage to the Spanish and Portuguese roots of the museum's Grade II listed synagogue. 
Expect dishes like Lentil Soup with Spinach; a staple in both Ashkenazi and Sephardi food culture, Vegetarian Cholent; a traditional slow-cooked stew served for a midday Shabbat meal in Ashkenazi communities and the It's Not Salmon and Cream Cheese Bagel; the museum's own take on the classic breakfast combination.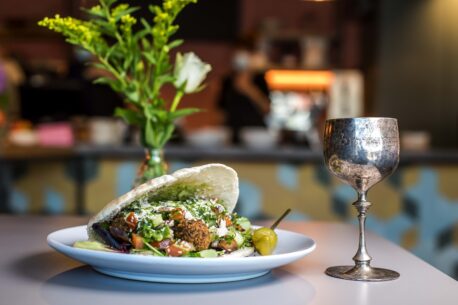 By serving a vegetarian and vegan menu, the café seeks to be as open to as many people as possible across the diverse communities that use the museum. All ingredients are kosher, though food isn't prepared under on-site Beth Din supervision. There are also a range of kosher pre-packaged snacks available along with traditional Jewish baked treats.
The museum's Learning Kitchen also provides a space for schools, communities and businesses to bake, cook, eat and share traditional Jewish recipes. 
The cafe is open from 10am-4pm daily, serving hot food from 11.30am-2.30pm, and will be open later when the museum hosts late events. 
Everyone's welcome. What are you waiting for? Fill your boots. 
Words:

Rachel Kevern

Published on:

Mon 7 Feb 2022