Salford Quays will be transformed into an illuminated wonderland this week, as Lightwaves returns on Friday for a ten-day festival and its most ambitious line-up to date.
A trail of installations will take over the grounds around Media City and throughout the Quays, with thousands expected to flock to the area to take in the display once more.
This year will see the arrival of the jaw-dropping 'Floating Earth', which will become the festival's centrepiece. The globe, designed by Luke Jerram, has been created from 1200dpi detailed NASA imagery of the Eath's surface and will float upon the water's surface.
Jerram has created this piece to give visitors a profound understanding of the interconnection of all life, and a renewed sense of responsibility for taking care of the environment.
Also on show, situated in Mariner's Canal, will be 'Sirens' by Davy and Kristin McGuire–a beautiful but haunting display of water-based projections, featuring life-like mermaids and sea creatures as they encounter the devastating effects of plastic pollution and climate change.
Celebrating a UK premiere in partnership with Submerge, 'Cygnus' by Loomaland is a mesmerising water ballet that features twelve synchronised, glowing robot swans. The magical birds are illuminated from the inside, gliding on the surface and changing colours to the rhythm of the music that is coming from within their bodies. The work will be accompanied by a newly commissioned soundtrack 'Swan Songs' by Anil Sebastian, commissioned by Submerge earlier this year. Submerge seek to create opportunities for marginalised artists and to ensure that these voices are amplified within creative tech arts and music projects.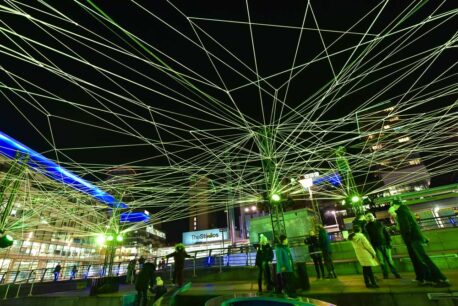 Taking influence from the Manchester bee, 'Hive Minds' is an interactive arch of light created by Backstage Academy students, working alongside multimedia artist Aphra Shemza. This powerful work is centred around themes of unity and sustainability. The 3D printed sculpture is sustainably-sourced, and the materials will be reused and recycled. The aim of the piece is to reflect on what humans can achieve when they come together as a hive in the face of the climate crisis.
Bringing people together via a spontaneous music-making experience, 'Illumaphonium' by Michael & Gemma Davis will delight visitors of all ages . The mesmerising piece is made up of more than 150 hand-tuned and illuminated chime bars, each of which respond to touch with changing patterns of light and sound.
Experiential artwork 'Mystery Bird' has been developed as a static installation especially for Lightwaves 2021. A collaboration of five unique creatives: paper artist Helen Musselwhite, vocal beat-box artist Jason Singh, projection team Illuminos, local designers and fabricators M3 Industries and digital AR expert Jack Hardiker.
'Moths at Work' by Pif-Paf makes a special appearance for the launch weekend with a joyful Physical Street Theatre interaction. Ray and Flash, two brave Disco Moth Electricians are sent down from the Moon in the Sky to collect moments of fun, pride and silliness to beam back home.
Nestled in MediaCity gardens will be a small meadow of oversized robotic flowers entitled 'Digital Playground', by Studio Little Lost Robot. As visitors move around the sculpture the flowers' appearance subtly changes according to movements made. This oasis aims to passively remind spectators all to take it slowly and breathe.
A permanent artwork at MediaCity, 'Through No.4' by Liz West consists of a six-metre long triangular corridor of light and colour. The walk-through structure encourages visitors to look at their surroundings in a different light. This will be amplified and exaggerated during Lightwaves through the use of elegant artificial lighting, turning the multicoloured artwork into a 'jewel' in the dark.
Also on show is 'Youth Culture' by Stanza—a sculpture which challenges our assumptions about social alienation, 'Entwined Light' by Antoniya Soitsova & Nicolo Bencini—which tells the story of the ever-shifting relationships between the artificial and the natural, and 'Lasertonic' by Flora Litchfield—which utilises sound and colour to transform its surroundings into a meditative environment.
Lightwaves is free to attend and no advance booking is required. This year Quays Culture will also launch a free mobile app to help users navigate the route.
Words:

Bradley Lengden

Published on:

Mon 29 Nov 2021