Ever sat down with a cold, refreshing G&T and thought, yep, I could do with a full yard of this?
Well you're in luck. Local gin specialists, Zymurgorium, have catered to that very thought with their newly unveiled 'Yard of Gin'.
Complete with 12 various tipples, six gins and six gin liqueurs, the tower of botanicals stands at three-feet tall and is the perfect surprise for any budding connoisseurs wanting to try an array of different flavours.
Included in the collection, are a range of Zymurgorium's signature and eclectic flavours. The yard contains 12 x 5cl miniatures, spanning classic recipes like the Original Manchester Sloe Gin and Zym Pink Gin, to more adventurous forrays like Fruit Salad Pineapple & Sweet Raspberry and the My My Apple Pie Gin Liquer.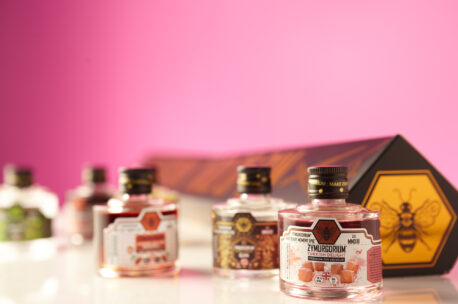 Gins
Original Manchester Sloe Gin (40%)
Choc-A-Bloc Gin (40%)
Original Manchester Gin (40%)
Zym Pink Gin (38%)
Manchester Marmalade Gin (40%)
Syllabub Lime Gin (40%)
Gin liquers
Turkish Delight Gin Liqueur (18.7%)
Fruit Salad Pineapple & Sweet Raspberry Gin Liqueur (20%)
Sweet Violet Gin Based Liqueur (18.7%)
Cherry-on-Top Bakewell Gin Liqueur (20%)
My My Apple Pie Gin Liqueur (20%)
Jack Blacked Gin Liqueur (20%)
Zymurgorium's Yard of Gin is available to buy online now. We've even been given one to give away to one lucky reader, head over to Instagram for more details…
A Manchester Wire Partnership post
Thu 11 Nov
Words:

Bradley Lengden

Published on:

Thu 11 Nov 2021