The Velodrome at the National Cycling Centre (NCC) has now reopened following a £27m refurbishment to improve the centre's facilities and green credentials.
The project has transformed the venue into the UK's first all-electric Velodrome after major investment from Manchester City Council, Sport England and Central Government.
The NCC now boasts more modern, efficient, and sustainable features that will support local pathways to participation at all levels from community to elite cycling programmes. The NCC also plays a big part in the city's leisure calendar and is a site where many local community groups train.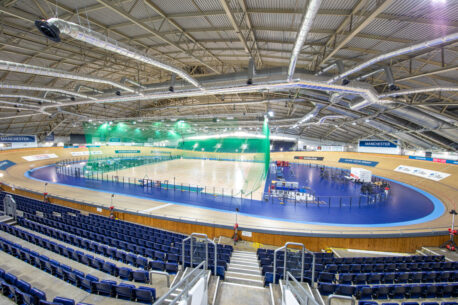 A number of green technologies have been implemented to reduce the centre's overall carbon footprint, including the use of heat recovery systems, a new Air Source Heat Pump and solar panels.
Cyclists using the facility will also be able to benefit from new fresh air ventilation systems, which create a more comfortable environment for riders.
The facility will additionally return as the home of local clubs, hosting training and competition programs from the site. Through a wide-ranging, accessible Velodrome, BMX, MTB and multi-sport programme, the facility aims to connect communities and residents of all ages and abilities to a local world-class facility.
The current programme caters for all ability and age ranges, with over 50+ coached sessions across the BMX and Velodrome Track each week. The centre is also used for various other sports including badminton, futsal, netball, korfball and more.
You can find more information about the courses on off at the NCC here.
National Cycling CentreManchester M11 4TE
Words:

Bradley Lengden

Published on:

Mon 4 Sep 2023