Manchester's much-anticipated 'sky park' will open to visitors at the end of this month, following the incredible transformation of Castlefield Viaduct.
Built in 1892 by the same engineers who worked on the Blackpool Tower, the 330 metre steel viaduct was used to carry heavy rail traffic in and out of hte Great Northern Warehouse until 1969.
Since then, the viaduct has stood unused. However, over the last five months work has been carried out to breathe new life into the structure, turning it into an urban park for public use, providing a cultural, heritage and greenspace amenity in the heart of the city.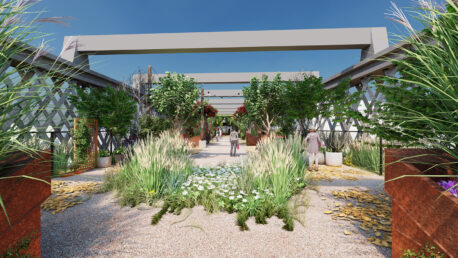 "The vision is to transform Castlefield Viaduct into a free-to-access park and meeting place for people and nature. It will be a space that respects the listed structure, celebrates the nature, beauty and history of the viaduct, and fits in with existing plans for the city. As well as bringing people closer to nature in the city, it will be a stepping stone to other South Manchester green spaces and attractions on foot or bike. The viaduct will take its place in this vibrant area for cultural and heritage, sitting alongside iconic Manchester venues including the Science and Industry Museum and The Factory."
The first phase of the project will open on Sat 30 Jul, with the launch of a temporary urban park where the team behind the renovation will test ideas and invite the public to share their own suggestions for its future.
Urban Wilderness, the Science and Industry Museum, City of Trees and Castlefield Forum have also created their own unique garden areas on the viaduct.
Visitors will be able to book guided tours of the new space from Mon 25 Jul, with this first phase running throughout the next 12 months. Head to the National Trust website for more information on the project, and to book tickets.
Sat 30 Jul, Castlefield Viaduct, Catalan Square, Duke St, Manchester M3 4PU
Words:

Bradley Lengden

Published on:

Mon 25 Jul 2022