From wondrous mechanical creations springing to life and turning your body into a machine, to toy making and lifting a mini—the Science and Industry Museum has a huge festive period ahead.
Showcasing the charming final work of Rowland Emett, the mastermind behind the inventions of 'Caractacus Potts' in the film Chitty Chitty Bang Bang, guests can enjoy playful machines of all shapes and sizes through hands-on activities and shows—alongside a whole host of family favourites.  
From Weds 24 Nov to Apr 2022 the last work from one of Britain's best-loved artists and sculptors will be on display in Manchester for the first time in the Museum's Textiles gallery. 
Originally constructed in 1984, the unique moving sculpture named 'A Quiet Afternoon in the Cloud Cuckoo Valley' was saved for the UK after being purchased for the Science Museum Group Collection with support from Art Fund, the Science Museum Foundation, the Friends of the National Railway Museum and private donors. 
Visitors will be able to see two scenes from the fantastical work of art telling the story of a journey aboard the imaginary 'Far Tottering and Oyster Creek Railway,' based on one of his cartoons. 
The displays will come to life twice a day, at 11.30am and 2pm. Expect whirring cogs, characters toasting teacakes and catching butterflies and discover what the sculpture has in common with the museum's thundering textiles machinery.  
Born in London in 1906, Emett initially found fame producing cartoons for Punch magazine before creating a series of intricate mechanical sculptures based on his imaginative creations.  'A Quiet Afternoon in the Cloud Cuckoo Valley' is one of Rowland Emett's largest pieces, and was originally commissioned for a shopping centre before being exhibited at Spitalfields Market in London. While in storage in 1999, it was stolen for scrap metal but later recovered and refurbished.  
Visitors can make a full day of it, with variety of machine-focused activities coinciding with the exhibition from 18 Dec – 4 Jan.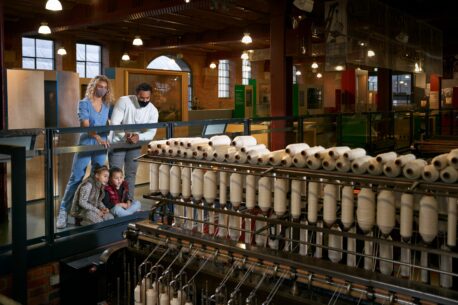 Every day visitors can discover the surprising science behind their favourite machine at Science Stops throughout the museum with the venue's Explainer team's very own inventions. 
At 10.45am, 1.15pm and 2.45pm each day, under 7s can join for Mini Movers—rolling, clanking and whirring around the Textiles Gallery, exploring the machines around us through imitation, invention and imagination.
Visitors of all ages can also join the museum's team of Explainers in the Textiles Gallery to create their own simple wind-up toy from recyclable materials to take home.
Other current showings at the museum include The groundbreaking 'Cancer Revolution: Science, Innovation and Hope'—the world-first major object-rich free exhibition to explore the past, present and future of how cancer is prevented, detected and treated.
Also here until January, is 'Use Hearing Protection'—a celebration of Manchester's iconic and influential music label Factory Records, telling the story of those pre-Haçienda days, and detailing how post-industrial Manchester allowed the company to spearhead innovation in music and design.
Other activities available at the Science and Industry Museum include: 
The Revolution Manchester Show (Ages 5+) 
Daily: 10.15am, 11.15am, 1.00pm and 2.15pm 
Join expert Explainers for an action-packed show that tells the story of how science met industry right here in Manchester, building our world and shaping our lives today. 
Meet Baby demonstration (Ages 12+) 
Wed-Fri: 10.30am – 1.30pm 
The Manchester Small-Scale Experimental Machine, nicknamed 'Baby', was the first computer to store and run a program. Watch volunteers run a replica Baby and see how far computing has come since 1948. 
The museum is open from Wed – Sun, 10am – 5pm during term time and Mon – Sun, 10am – 5pm during the school holidays.
A Manchester Wire Partnership post
Wed 24 Nov, Science and Industry Museum, Liverpool Rd, Manchester M3 4FP
Words:

Bradley Lengden

Published on:

Mon 22 Nov 2021