Celebrating those at the forefront of the art world, a new digital gallery at the School of Digital Arts (SODA) at Manchester Metropolitan University invites guests to experience cutting-edge, immersive collections formed using the latest game-changing technologies.
The innovative space includes a large LED façade, cinema and open-plan gallery, all combining to shatter the preconceptions of a traditional art gallery.
Modal's inaugural exhibition is Slip.Stream.Slip: Resistance and velocity in game engine culture. Kicking off with a private view on Thu 23 Jun, then opening to the public from Fri 24 Jun, the show features work from nine international artists delving into game engine culture, and how our relationship to images, sounds and interactivity has been transformed by these virtual technologies.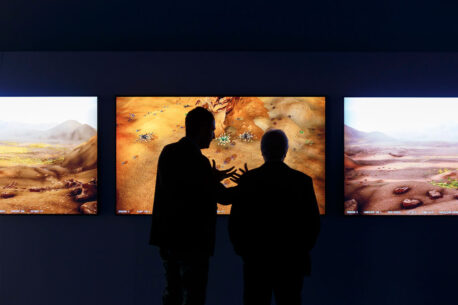 Offering a unique glimpse into the shift toward gamification as a model for understanding our lived experiences, visitors will be taken on a journey that blends real-life and simulated worlds, and learn more about how gaming engines sit behind the creative processes behind things like healthcare and manufacturing.
Expect fantastical, sometimes shocking images from Shanghai-based multimedia artist Lu Yang and the planet Mars reimagined as a planetary haven by Alexandra Daisy Ginsberg. Auriea Harvey presents sculptural explorations on the subject of mortality, Cécile B. Evans explores the value of emotion in society through a staggering video installation and Jakob Kudsk Steensen's Liminal Lands immerses participants in an environmental multiplayer experience.
An audiovisual piece from Jenna Sutela uses machine learning to generate a new written and spoken language, Joshua Citarella's documentary hones in on the political behaviours of the young and very online and finally, Juan Cortés investigates the case of soy monoculture and its accelerated expansion in South American territories.
For more information on each artist, head over to the School of Digital Arts website.  
A Manchester Wire Partnership post
Fri 24 Jun, Modal Gallery, School of Digital Arts (SODA), 14 Higher Chatham St, Manchester M15 6ED
Words:

Bradley Lengden

Published on:

Thu 16 Jun 2022