Messing with the tried and tested formula of a Sunday dinner in Britain is stepping into very risky territory. That means for anyone who does dare to do so, you best come up with something pretty special.
Kudos then, to the folks at NAM for stepping up to the plate with their Vietnamese take on a dish that's nothing short of a national treasure and one that means so much to so many up and down the UK.
Now we already know NAM are incredibly good at what they do. Their laid-back canteen setting paired with flavourful Southeast Asian classics has cemented them as a firm favourite among Mancunians for a good few years now. This though, is a different ballgame.
The first thing that strikes, as the plate is so welcomely slid before me, is the sheer size of the thing. If absolutely nothing else comes from this, they get full marks on value for money because my God, it's massive.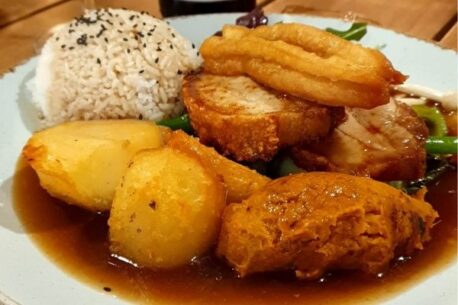 It never veers too far from a traditional Sunday dinner, rather, it takes all the great things about NAM and makes these delicious little tweaks that transport you somewhere new and exciting, while still capturing the crucial comforting element that's central to a roast.
Punters can choose between three protein options; 5-Spice & Soy Braised Tofu, Half Roast Chicken with Nam's Signature House Rub or Crispy Skin Char Sui Pork Belly—we went for the pork; hefty slabs of it wrapped in that bubbly, golden skin that held its luscious crunch even after being slathered in gravy, and the tofu; a sumptuous combination of vibrant Viet flavours.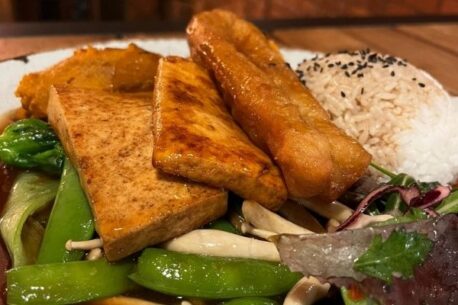 About that gravy. I reckon I've thought about it at least twice a day since. Made by reducing the restaurant's signature pho broth, it simmers away for hours before hitting the plate, bringing a mix of big, bold flavours that elevates everything on the plate to a new level—just as the gravy on any good roast should.
Other twists include the usual Yorkshire pudding being switched out for a sweet, moreish doughnut (it works, trust me) and mash laced with 5-spice and lemongrass, delivering a fragrant, carby hit.
It's an unlikely concept that merges traditions from vastly different cultures to mouthwateringly incredible results.
Sun 13 Mar, NAM, Unit 2, 33 Blossom St, Ancoats, Manchester M4 6AJ
Words:

Bradley Lengden

Published on:

Mon 7 Mar 2022