From Thu 23 to Sat 25 Nov, Waterside Arts brings a new, bold and enchanting winter light festival to Trafford with Prism, a three-day programme of music, projection and live performance promising to illuminate the streets of Sale town centre.
Billed as a magical, thought-provoking experience for all ages, the centre-piece of the inaugural Prism festival is a Winter Light Trail, which features a mesmerising array of exclusive installations set up throughout Sale, operating all night every night. Ahead of the festival, kids and young people from Trafford are invited to drop into Sale Library for a series of creative workshops with public artist Venessa Scott, producing collaborative installations for the trail before it launches.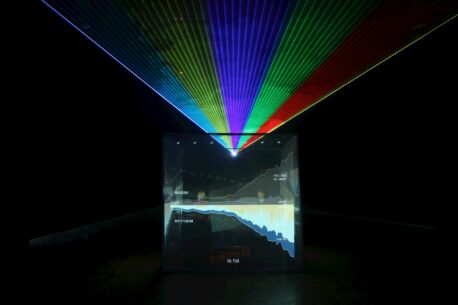 Created by using a captivating interplay of light and projections splashed across the Sale Waterside building, alongside pulsating electro-pop, lush synths and prowling beats, composer Richard Evans presents a 'multi-sensory performance of electronic music' with Sentinel, a large-scale visual work which issues an urgent call-to-action in response to the growing impact of climate change. Running each night of Prism, the show juxtaposes bubbly synthpop hooks with spoof news items in a vibrant mixture of sound, light and video to galvanize viewers into reclaiming a world spiraling out of control.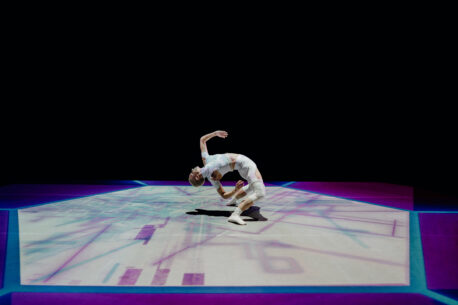 Concluding the Prism live performance programme, Tom Dale's captivating indoor dance piece Surge 360 comprises a wildly inventive duet between a dancer and an animated light, forging a kinesthetic bridge between the digital and organic worlds across 25 minutes, with performances taking place three times across Saturday 25 Nov in the round, allowing audiences to enjoy an intimate, consuming cybernetic landscape.
Festival Curator and Waterside Manger Darren Adams says:
"I am so thrilled to be able to launch the inaugural Prism festival this Winter. The festival has always been a bold ambition, so huge thanks to our funders and supporters and to the great team of people working hard to create this immersive new festival. We have curated a series of high-impact events that use digital arts and ground-breaking technology in innovative, creative ways. We hope that people will come along and enjoy the entertainment and be inspired."
For the full Prism progamme and performance times throughout the festival, head to the Waterside Arts website.
A Manchester Wire Partnership post
Thu 23 Nov - Sat 25 Nov, Waterside Arts, 1 Waterside, Sale, M33 7ZF, Tel: 0161 912 5616, Free-£5

watersidearts.org
Words:

Wolf McFarlane

Published on:

Tue 17 Oct 2023