While perhaps once primarily recognised as one of the city's coolest co-working spaces, wander a little further through Ducie Street's quite stunning warehouse conversion and you'll find a dining experience that has properly come into its own over the last year or so.
It's a spectacular setting, one that somehow manages to feel welcoming and warm while still bearing all the industrial bruteness of the original building.
Given the warehouse's recent rejuvenation as a space for the city's newest generations of creatives to meet and mix, it seems fitting that the restaurant's latest menu concept should be one built around sharing.
Head chef Andrew Green has crafted a series of easy and accessible dishes stemming from three basic elements—the farm, the sea and the allotment—all designed to be passed around between friends, families and anyone you choose to share a table with.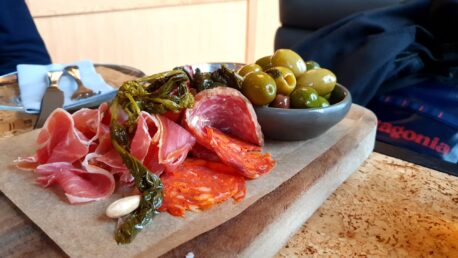 With that being said, we kicked things off with a charcuterie selection. A generous smorgasbord of various cured salamis and smokey chorizo, it's a classic and a pretty logical starting point for any sharing concept.
Onto the locally reared lamb koftas—delightfully succulent skewers of meat sat atop a hefty smear of genuinely moreish beetroot hummus and topped with crumbled feta. Alongside that comes a big, fragrant bowl of smashed sweet potato, chilli, coriander and…more feta—think guac, but sweet pots, a concept that doesn't take too much effort to get behind.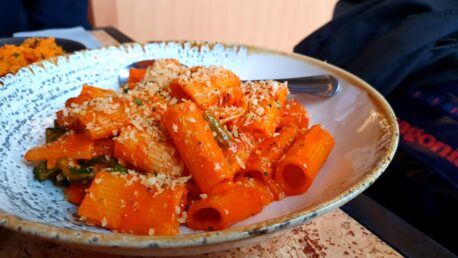 Much to our unbridled joy, a mammoth bowl of Calabrian ndjua pasta and tenderstem broccoli slides its way over next and with it comes those tantalising, inviting scents you'd expect of any good pasta dish. Also like any good pasta dish, simplicity sings here, as the nduja kick has us pausing whatever irrelevant conversation had been going on prior for a good few moments.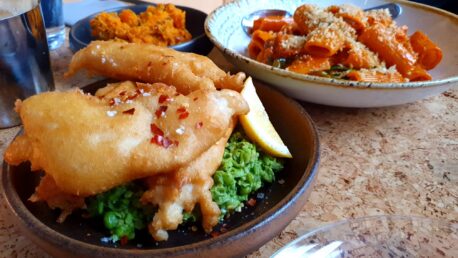 The crispy Manchester Union battered fish sharers also arrive and they're great fun, the golden batter crunch offering immense satisfaction and the minty peas playing the perfect supporting role.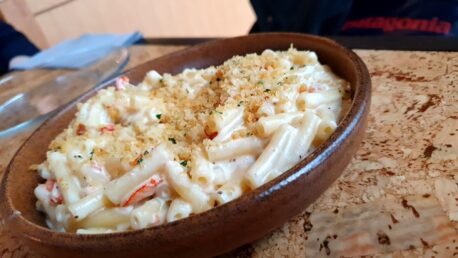 Above all else though, it's the famous lobster macaroni that has us, and the table next door gushing throughout. It's a plate that jumps out immediately as you scan through the menu, and continues doing so long after the meal has finished. Proper indulgence done properly.
Ducie Street's Something For Everyone To Enjoy menu is available now. You can book your spot using the button below.
A Manchester Wire Partnership post
Tue 17 May, Ducie Street Warehouse, Ducie St, Manchester M1 2TP
Words:

Bradley Lengden

Published on:

Tue 17 May 2022