Before Kala had even opened its doors in 2019, the sixth restaurant in Gary Usher's Elite Bistros portfolio was already making headlines after breaking records by reaching its £100k Kickstarter target in a staggering 11 hours.
Since then, Kala has been offering an acclaimed take on bistro dining from its gorgeous King Street dining room — an elegant but instantly welcoming space, polished dark wood accented by lashings of emerald green textures.
That warm welcome is only added to by the wonderful team, who are infectiously enthusiastic and well-informed about everything on offer.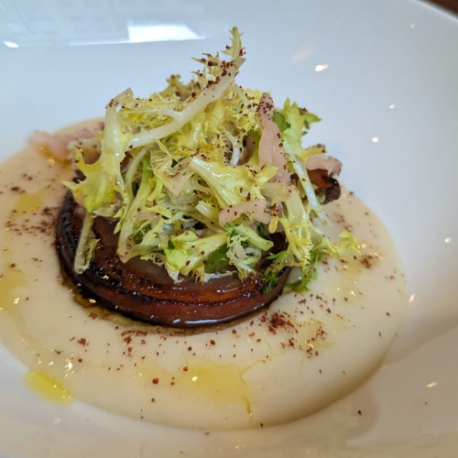 We begin our meal with the lamb's breast, butterbean and roast garlic purée — a disc of perfectly tender meat which flakes apart effortlessly as it sweeps through the flavourful paste beneath.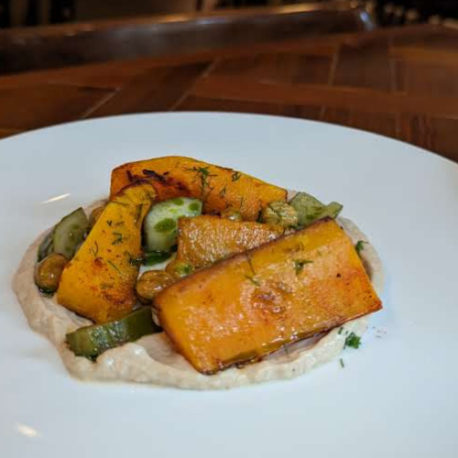 The butternut squash roasted with baharat spice is also a hearty delight from the starters section. Served with a lovely hazelnut cream, this is contrasted nicely by the garnishing of pickled cucumber and dill.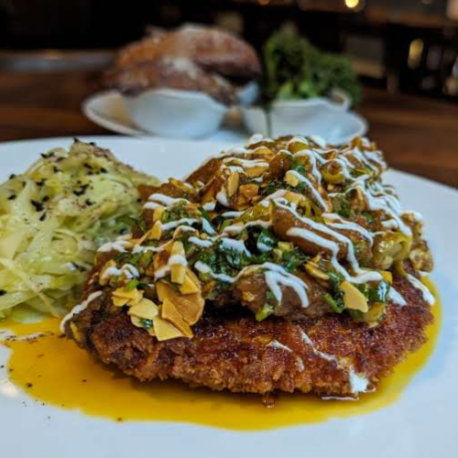 Onto the mains and we opt for the chicken schnitzel with shawarma spiced butter, which is an absolutely joyous take on the classic. A generous slab of tender chicken wrapped in a crunchy golden crumb, topped with swathes of this indulgent, rich and fragrant butter that adds a little extra luxury to an otherwise simple favourite.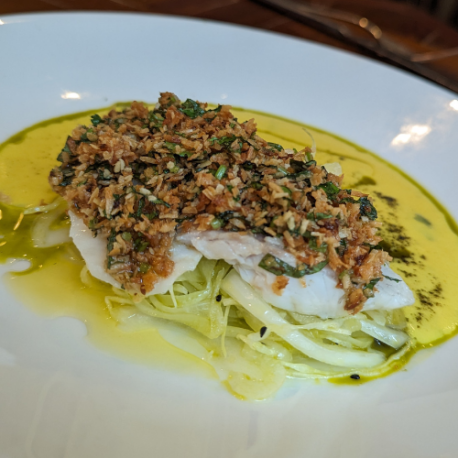 We dip into the bistro menu's poached bream for our second main, which arrives looking as gorgeous as it inevitably winds up tasting, swimming in a shimmering kefir and lime curry sauce that offers up a moreish tang alongside the subtle smokiness of the white fish.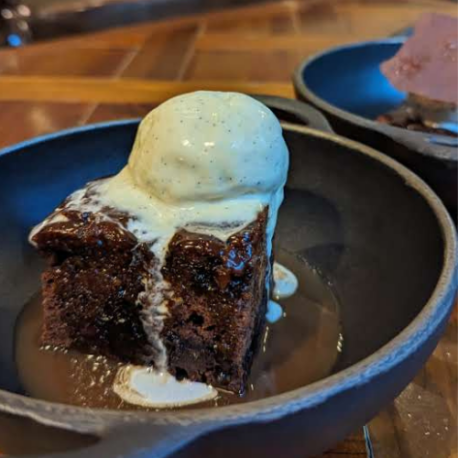 For desserts, the sticky toffee pudding is a tried and tested classic done properly, and the chocolate 'oblivion' is as decadent as its name suggests.
Kala's new main and bistro menus are available now, and include a load of delicious-sounding additions that we'll certainly be heading back to try — the truffled Jerusalem artichoke and Welsh Rarebit on brioche toast, the confit duck leg with port-braised red cabbage and the roast cabbage stuffed with wild mushrooms and confit garlic mash all newcomers that caught our eye.
You can book your table using the button below.
A Manchester Wire Partnership post
Kala, 55 King St, Manchester M2 4LQ
Words:

Bradley Lengden

Published on:

Mon 18 Sep 2023