The Science and Industry Museum is ready to set the wheels in motion with an exhilarating transport-themed half term of fun.
From Sat 28 May-Sun 5 Jun visitors can embark on a journey through the city's illustrious history of transport; celebrating the pioneering thinkers at the forefront of kinetic innovation, exploring Manchester's incredible contributions, and learning about how we can propel the next generation of creators towards a greener future.
As the site of the first-ever intercity passenger railway, visitors can get hands-on by creating gadgets and watch science in action through interactive demonstrations.
Then, taking inspiration from 'Stephenson's Rocket', an early locomotive, tinkerers can create their own moving vehicles while also thinking about ways to make them environmentally sustainable.
A team of expert Explainers will also be on hand to ignite curiosity and reveal wonder. Join them on journeys through air, on land and even in outer space, during engaging demonstrations designed to unravel scientific secrets.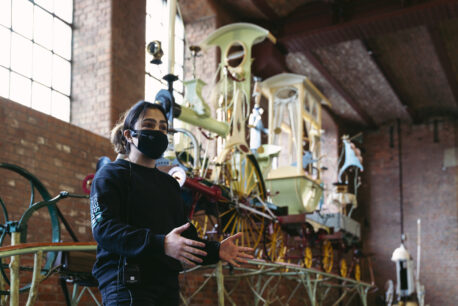 The theme of transport continues, as visitors can ponder at A Quiet Afternoon in the Cloud Cuckoo Valley—the final work of Rowland Emett, the mastermind behind the inventions of 'Caractacus Potts' in the film Chitty Chitty Bang Bang—an intricate moving sculpture that depicts the story of a train journey through the fictional Valley.
Young minds can get stuck into storytime with the museum's Explainers during an interactive reading of Patricia Cleveland-Peck's You Can't Take an Elephant on A Bus—and under-fives can borrow a Construction Pack, containing a high-vis, hard hat and wooden tools, before 'working' their way around the museum.

Coinciding with the half-term activities, be transported to the Brazilian rainforest through a powerful new photography exhibition from the revered Sebastião Salgado—Amazônia—which celebrates the country's indigenous peoples and spectacular landscapes. 
Take a journey back through time by exploring a display that marks 100 years of the BBC in Manchester; where the city's history as a centre of innovation in broadcasting is examined.
The museum's family-favourite Experiment Gallery has also been revamped to include a host of new interactives. See science brought to life with a heat vision thermal camera, get creative with magnetic art and throw some shapes with the new shadow wall. 
Meanwhile, in the Revolution Manchester Gallery, marvel at the city's legacy of world-changing innovations, including one of the first Rolls-Royce motorcars thought to have been driven by Henry Royce himself. The story of how cotton transformed Manchester into an industrial powerhouse can also be explored in the Textiles Gallery.

Free tickets to the museum are available now and can be booked in advance using the button below. Entry to Amazônia is free but tickets do need to be booked in addition to museum entry.
A Manchester Wire Partnership post
Sat 28 May - Sun 5 Jun, Science and Industry Museum, Liverpool Rd, Manchester M3 4FP
Words:

Rebekah Spratt

Published on:

Fri 6 May 2022