Hayward Gallery Touring's landmark exhibition British Art Show 9 is set to open in Manchester later this month, widely regarded as the most ambitious recurring show of contemporary art produced in the UK.
The exhibition takes place every five years and showcases some of the nation's most exciting talents. This time around, it's set to take over some of Manchester's most-loved spaces, including Castlefield Gallery, HOME, Manchester art Gallery and The Whitworth.
This year's event is also something of a homecoming, marking the return of the British Art Show to Manchester which originally hosted show number four back in 1995, and show six in 2006.
British Art Show 9 is curated by Irene Aristizábal and Hammad Nasar and focuses on work made since 2015.  The exhibition reflects a precarious moment in Britain's history, which has brought politics of identity and nation, concerns of social, racial and environmental justice, and questions of agency to the centre of public debate.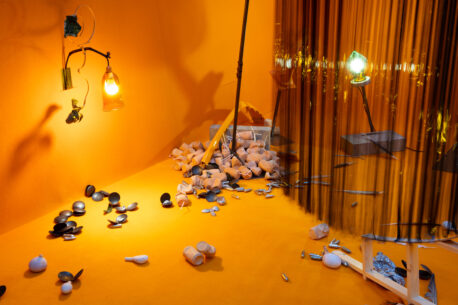 The artists presented in the exhibition respond in critical ways to this complex context. Through their works, they imagine new futures, propose alternative economies, explore new modes of resistance and find ways of living together, doing so through film, photography, painting, sculpture, and performance, as well as through multimedia projects that can't be placed in a single category.
Three main themes shape the event—Healing, Care and Reparative History, Tactics for Togetherness and Imagining New Futures. In Manchester, the work of 19 different artists will feature, each directly addressing those three themes.
Their projects aim to extend our understanding of identity to beyond the human, often blurring the boundaries between art and life. Through their works, they propose alternative futures, economies and ways of living together.
The artists featuring in Manchester are:
Hurvin Anderson
Michael Armitage
Simeon Barclay
Oliver Beer
Than Hussein Clark
Oona Doherty
Sean Edwards
GAIKA
Patrick Goddard
Anne Hardy
Andy Holden
Joey Holder
Elaine Mitchener
Grace Ndiritu
Hardeep Pandhal
Hetain Patel
Abigail Reynolds
Katie Schwab
Caroline Walker
For more information visit the British Art Show website.
Featured image credit: Joey Holder
Fri 27 May - Sun 4 Sep, Various venues
Words:

Bradley Lengden

Published on:

Fri 6 May 2022