Manchester's street food and drink space Grub will be playing host to the Northern Heat of The British Street Food Awards on Friday 2 and Saturday 2 October. The popular Green Quarter space will play host to a variety of local food vendors across the two-day heat, including vegan foodies Seitan's Kebabs, Leeds' Bread & Butter BBQ, eco-friendly bistro Honest Edibles, Indian-inspired dishes from Tikka Chance on Me, vegan hog roast pros The Hogless Roast and many more.
Sponsored by Hellmann's, The British Street Food Awards have the potential to drastically change the future of small local street food vendors. Previous winners include chicken wing experts Wingmans, who have recently opened their second restaurant in Soho – and the popular London restaurant MEATLiquor, who now operate a whopping 12 venues across the country. This weekend's Northern Heat is one of five planned regional heats which will culminate in a live-cook off judged by the public and a carefully selected panel of experts due to take place later this year.
2020's heats will take place in the airy setting of street food and drink hubs like Grub, who's spacious eco-garden and drinks hall make it the perfect place for a socially-distanced bite to eat. Entry is free but booking is advised for groups of 4-6 people in order to secure a table reservation. To find out who'll be dishing up the goods this weekend, check out the posted below.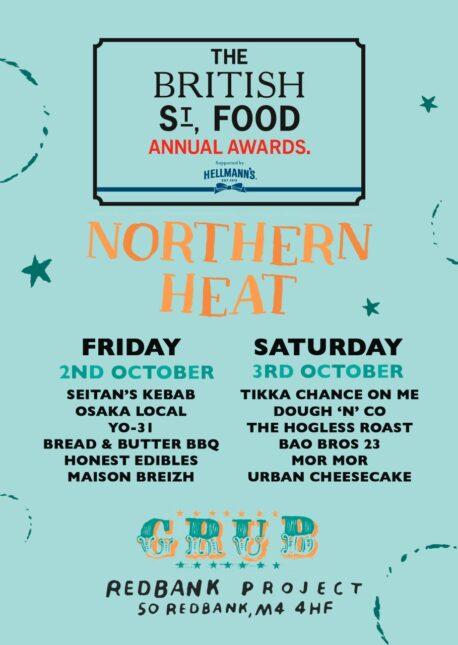 Photo credit:James Darcey.
Fri 2 Oct - Sat 3 Oct, Grub, 50 Red Bank, Cheetham Hill, Manchester M4 4HF, Free (Booking Advised)

www.grubmcr.com
Words:

Simon Bland

Published on:

Tue 29 Sep 2020