Beloved Chorlton institution The Creameries have unveiled a new identity, Campagna at The Creameries, a celebration of Southern European country cooking.
Fresh pasta and bread will play a key role in the new look, Head Chef Mike Thomas making both offerings from scratch every single day.
Already renowned for their supreme quality, a commitment to impeccable seasonable ingredients will also be a driving force behind the new, ever-changing menu.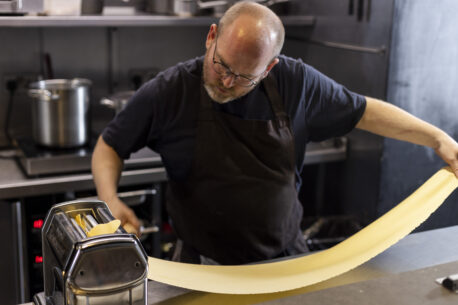 Main courses such as 'Cuttlefish Stew (braised fennel and confit duck leg with puy lentils) demonstrate the diversity of cooking from Southern Europe, while desserts including Hazelnut Torte with Zabaglione Cream' stem from Mike's passion for baking.
As the seasons turn ever-so-slightly warmer, winter vegetables will make way for spring produce—though staples like the Beef Shin Ragu will remain throughout, so no need to panic on that front.
On Sundays, the menu turns 'Al Forno'—piping hot Lasagne Alla Ragu Bolognese or King Oyster Mushroom Vincisgrassi (a style of vegetarian lasagne), that kind of thing.
Carefully-considered wines will still have a major part to play, with plenty of low-intervention Italian pours that pair seamlessly with pasta to choose from.
Thu 3 Feb, The Creameries, 406 Wilbraham Rd, Manchester M21 0SD
Words:

Bradley Lengden

Published on:

Wed 2 Feb 2022