Dazzling the eyes on a Sunday morning, The Refuge seems designed with brunch in mind. The high ceilings of Alfred Waterhouse's grand, Victorian masterpiece, home by turns to the Refuge Assurance Company, Tempus bar (it's probably just me who remembers that one) and, since September 2016, Justin Crawford and Luke Unabomber's feted Refuge bar and restaurant are a picture of gothic romance.
In fact, The Refuge has consistently received glowing reviews. Highlights include the city's most beautiful bar (see above), a world class DJ roster (as you'd expect from Luke and Justin, the team behind evergreen club night/festival HomoElectric/HomoBloc) and a Middle Eastern-influenced menu of small plates. The new brunch menu, however, is their first foray into breakfast food.
I didn't expect to be a scrambled tofu convert. Ask anyone, though, and you'll get the same answer: The Refuge is serving the best in town. I've actually tried to recreate it several times since at home, yet the balance of sun-blush tomatoes, coriander, chilli and lime escapes me. I also loved the house Negroni Sbagliato (£6.50), a simple yet sparkling twist on a classic.
The Refuge's sister restaurant, Volta, is famous for Dexter beef and traditional Northern European breeds are a thing here too. There's a deluxe McMuffin (Gloucester Old Spot sausage, English muffin, hash brown, 'Nduja and egg) for £7 and an Eggs Benedict with extraordinary streaky bacon for £7.50. Another test of an establishment is Shakshuka (£8.50). Often too bland, or too spicy, The Refuge gets the tricky combo of heat, tomato and eggs just right, chorizo and aged feta lending a decadent kick.
We don't venture into healthy territory but options include acai bowls (£7.50), bircher muesli (£4.50) and ginger shots (£2.50). The only thing missing, perhaps, is a sweet treat, along the lines of Albert Schloss's famous Cronut. Otherwise a solid 9/10.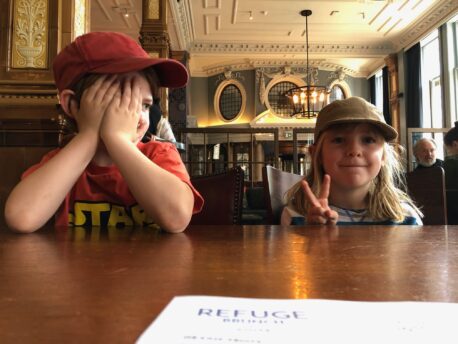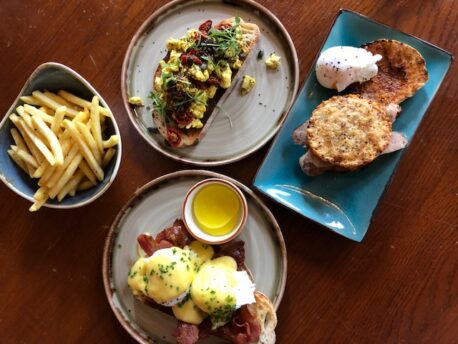 Fri 18 Sep, The Refuge, Kimpton Clocktower Hotel, Oxford Street, Manchester M60 7HA, Tel: 0161 233 5151

www.refugemcr.co.uk/menus
Words:

Ruth Allan

Published on:

Fri 18 Sep 2020