Adding another masterful adaptation to the Lowry's glittering theatrical history, Emma Rice (Artistic Director of the Wise Children company) brings a powerful reimagining of Emily Brontë's classic novel to Salford.
Transforming the stage into the brooding slopes of the Yorkshire Moors, a diverse cast of talented actors delivers a timeless portrayal of the totemic revenge tragedy.
Led by Liam Tamme (The Voice) alongside stage veteran Lucy McCormick, Wuthering Heights follows rescued orphan Heathcliff, taken to live at the Earnshaw's titular family estate where he meets Catherine Earnshaw. A fiery romance unfolds before they are forced apart by circumstance and prejudice, unleashing a brutal storm of deceit and vengeance.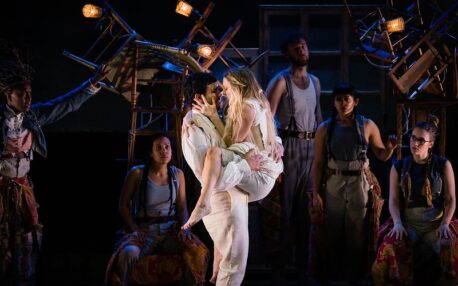 Adapted faithfully yet studded with entertaining contemporary tweaks, Rice's production is a rumbling delight, full of music, dance, passion and hope.
The show includes three accessible performances, featuring audio descriptions, captions and BSL interpretation respectively, and there will be a post-show talk after the performance on Thu 5 May.
Tickets are on sale now, grab yours using the button below.
A Manchester Wire Partnership post
Tue 3 May - Sat 7 May, The Lowry, The Quays, Salford M50 3AZ
Words:

Wolf McFarlane

Published on:

Thu 28 Apr 2022