In its relatively short time in the city Escape to Freight Island has consistently strived to bring an eclectic mix of Manchester's most exciting food and drink names under one roof—and in complete fairness, the team have done a pretty stellar job so far.
The latest addition, though, could very well be the pinnacle of the lot, and comes backed by some serious foodie pedigree.
Carnival, a collaborative concept that drafts in hospitality royalty Richard Turner—the mastermind behind Hawksmoor among other resounding food-based successes—is a celebration of open fire cooking, and is seriously, seriously special.
It comes in two guises. There's the usual Freight Island setup where you can order select dishes via app directly to your table, and then there's the set menu, where you sit up alongside the roaring fires of the open kitchen at the chef's table, which is what we had the pleasure of trying this evening.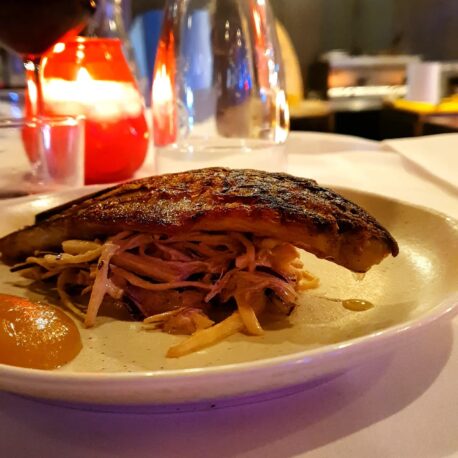 All in all, there are around 12 different dishes that span sides, snacks and mains. Throughout it blurs between familiarity and innovation. There are simple staples like mouthwateringly moreish scampi bites and smokey mackerel cooked to complete and utter perfection, and then there are less familiar forrays like the braised pig's head and crumpet; tender pork sat atop a fluffy crumpet in an unlikely yet sensational merging of food groups.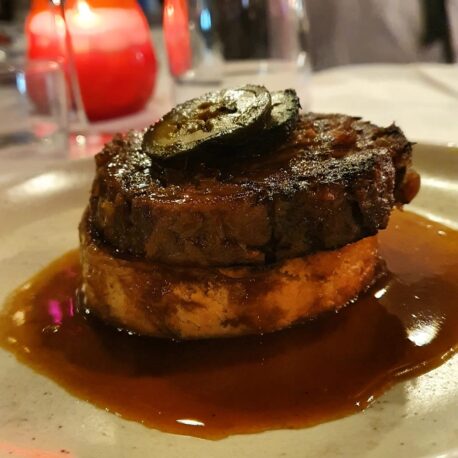 An eccentrically constructed serving of squid is also on offer, a tangle of deep-fried tentacles resting on more squid, this time grilled, and served with kosho—a Japanese paste made from chili peppers, yuzu peel and salt, kind of like citrusy wasabi.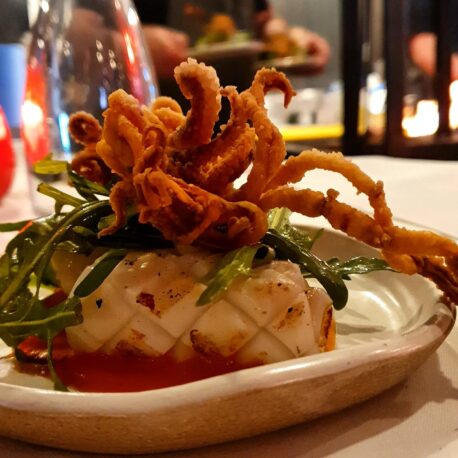 There's something wonderfully theatrical about the whole thing. In between courses you sit there mesmerised, easily lost in the bellowing embers on which your next course is being lovingly tended to, mere yards from where you sit sipping on a glass(es) of expertly-chosen red that complement each and every plate that's slid your way.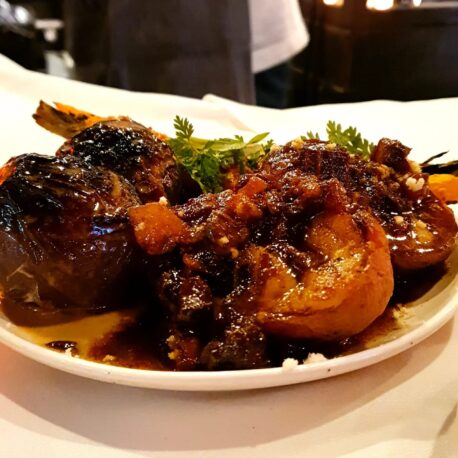 While you'd be hard-pressed to find faults in any, there are two dishes that manage to stand out in particular. One was a baked potato stuffed and overflowing with sumptuous braised ox cheek & tail, a no-nonsense brute of a serving that perfectly captures exactly what Carnival is about—a more primal take on the traditional set menu that rids itself of unnecessary frills and puts simple, bold flavours at the forefront.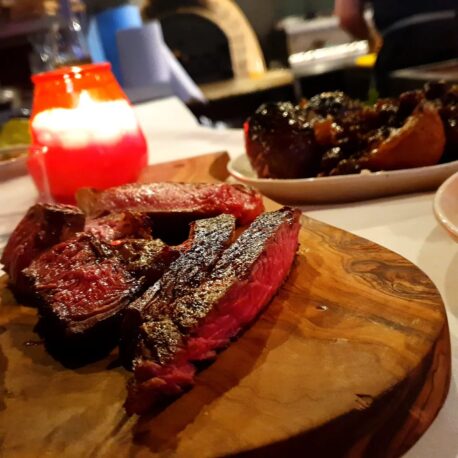 The other showstopper, which comes as no surprise, is a platter of premium steak cuts, each seemingly more succulent than the last. Rump, prime rib, bone-in sirloin and T-bone are all gloriously presented, smouldering on a wooden chopping board with a side of 'Houses of Parliament & Madeira Gravy' for dipping. Jesus. Christ.
If you're able to tempt a name that comes with as much esteem as Richard Turner into getting involved, odds are, you're probably onto something pretty good based on that alone. Over the last few years, we've seen Manchester gain some serious big-hitters on the set menu front—your Manas, your Districts—and now, we've got Carnival, an addition more than worthy of being thrown into that similar bracket of absolutely must-try food experiences in the city.
Wed 20 Apr, Carnival, 11 Baring St, Manchester M1 2PZ
Words:

Bradley Lengden

Published on:

Wed 25 May 2022