Eden Project North is set to become the new hot tourist destination for Manchester residents looking for an eco-friendly escape. Due to launch in Morecambe in 2024, the project is a sibling site to Cornwall's own Eden Project and aims to introduce visitors to a wealth of immersive experiences, alongside health and well being activities – reimagining this well-loved seaside resort for a whole new generation.
Promising a 'day out that inspires a sense of wonder and connection with the natural world', the Eden Project North will be a ticketed destination that's fully sustainable, featuring large indoor environments that combine elements of entertainment and education. While the project is still in the planning phase, the finished product aims to present an array of exhibitions, performances, play and learning areas, world-class horticulture, food, drink and retail spaces, making it the perfect day-trip destination for Manchester residents, post-lockdown.
The ambitious space will be divided up into four distinct areas: Above the Bay, focusing on plants, art and life linked to the sun, Below The Bay showcasing immersive theatrical experiences inspired by the tides and lunar rhythms, The Natural Sanctuary featuring bookable wellbeing treatments and The Natural Observatory which will house the venue's educational output. Each of these new spaces will be connected by a series of bespoke architectural designs linking the Eden Project North with its Morecambe Bay home. While an official debut date is yet to be announced, you can take a closer look in the mock-up images below or by visiting the Eden Project website. Be sure to check back in the coming weeks for more information on this exciting new attraction in the lead up to its 2024 opening.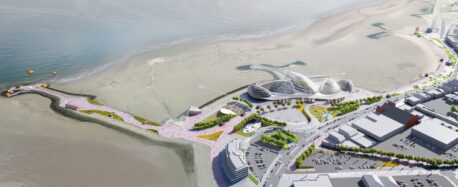 Words:

Simon Bland

Published on:

Mon 25 Jan 2021