Still regarded by many across the globe as the biggest football team in the world, Manchester United is a club with a history few clubs can rival.
It's little surprise then, that during the season Old Trafford is filled to the brim every time United play at home, which can make getting tickets a little tricky, particularly for the bigger games.
Where can I buy Manchester United tickets?
There are three official avenues for buying tickets to games. The first, and most common, is through the club's website.
Tickets for Premier League games are sold exclusively to club members, United say this is due to the unprecedented demand and to ensure fans of the club get priority. An adult membership costs around £32 for the year. Games in cup competitions, particularly in the earlier stages of the competition, are much easier to purchase and sometimes go on sale to the general public.
The second method is via phone — Manchester United tickets can be purchased by calling 0161 868 8000, pressing option 1.
The final way to get tickets through the club is in person at the ground. The club's Ticket and Membership Services office can be found in car park W2 at Old Trafford and is open 8am-8pm, Monday to Friday and 9am-5pm on Saturdays.
Ticketsalso appear on resale sites like StubHub and Viagogo, though prices are often inflated.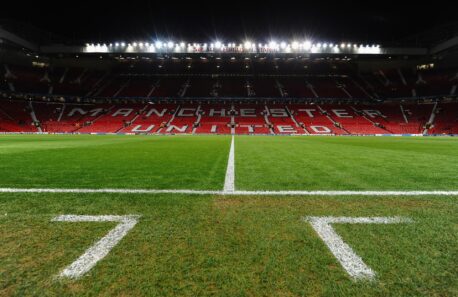 How much do Manchester United tickets cost?
Ticket prices vary depending on the opponent and where you sit in the ground. Prices range from £31-£53 for adults for Premier League games, with discounts available to over 65s and under 16s.
Prices for cup games fluctuate depending on the competition and the game's importance. Adult tickets for this year's Europa League group stage fixtures start at £40.
Can anyone buy Manchester United season tickets?
If you're interested in purchasing a Manchester United season ticket, you must first register your interest before being added to a waiting list. The cheapest adult season ticket is £532, with the most expensive (non-hospitality) at £950. Season ticket holders gain access to all 19 home Premier League games, they are also required to automatically purchase tickets for FA Cup, Carabao Cup and Champions League home matches — but do have the option to opt-out of the Carabao Cup.
Additional Premier League tickets are sold to official club members, which requires an annual fee of £32 for adults.
Cup games are the easiest to purchase, with those being the only tickets that go on sale to the general public.
Can I use someone else's season ticket?
Yes, season ticket holders can pass their tickets on to someone else.
The club's terms and conditions read: "If you are unable to attend a game, you can pass your ticket to a friend or family member, and concessionary ticket holders can also regrade their ticket to someone in a different age category."
How do I get tickets to watch the Manchester United Women's team?
The women's team play at Leigh Sports Village, season tickets are just £39 for adults, and £20 for under 16s and over 65s. Individual match tickets are £6 for adults and £3 for under 16s and over 65s. Tickets can be bought online here.
For more information, visit the ticket FAQ on Manchester United's website.
Thu 28 Jul, Old Trafford, Sir Matt Busby Way, Old Trafford, Stretford, Manchester M16 0RA
Words:

Bradley Lengden

Published on:

Thu 28 Jul 2022