A new exhibition which explores the effects of technology and its impact on society through an artistic lens comes to the Northern Quarter's Saan1 later this month.
The work, titled Screen Time, is by Welsh artist Morys Davies, who will be showcasing the exhibition in full after previewing select pieces at Ancoats wine bar KERB earlier this year.
Davies uses technology as his canvas to create a poignant message about the value we place on these devices and the time they unwillingly take from us.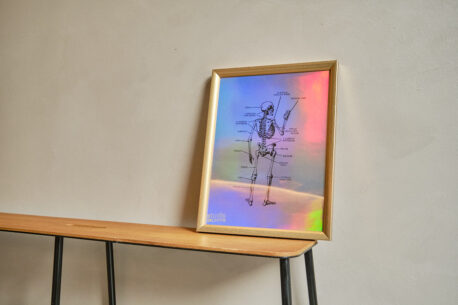 The artist elaborates on the inspiration for his work: "The definition of technology is 'the application of scientific knowledge for practical purposes' and whilst this is true for a select few, for the majority of us it exists to distract us with algorithms that deliver reaffirming content and user interfaces designed to be addictive and squeeze out the most screen time possible in the name of selling adverts.
"The notion of technology having anything to do with 'scientific knowledge' for the average consumer is comical. The habit-forming design of social media platforms is intentionally manipulating and misinforming the thoughts of billions of people, especially those who grew up alongside it. This has led to a stigma that is held towards an entire generation as a consequence of the engineering and design of a handful of people."
Screen Time will open to the public with a launch party on Fri 26 May, running throughout the bank holiday weekend until Mon 29 May.
Keep in the know
Be the first to hear about all the best events and news in Manchester.
Fri 26 May - Wed 31 May, Saan1, 5 Kelvin Street, M4 1ET
Words:

Bradley Lengden

Published on:

Thu 4 May 2023