We really are spoilt when it comes to tapas in Manchester, Porta, El Gato, Evuna…the list goes on. Take a short tram ride out of the city centre and into the suburbs, and you'll find a spot that is comfortably up there with the best of them.
Occupying a relatively unassuming spot in Didsbury Village, Nueve takes the shape of an enigmatic, alluring hole-in-the-wall. Step through though, and some seriously, seriously special things are happening.
Inside, streaks of vintage wood panelling meet exposed brickwork and lashes of deep red paint, all blending perfectly to capture the same effortless charm of that little backstreet Spanish tapas bar you fell in love with a couple of years back, the one you wound up at every night despite promising to try somewhere different, you know the type.
It's a setting that puts you at ease almost immediately — and then it comes. That unmistakable buzz of conversation, catch-ups over one more pint, belly laughs, oohs and aahs at the plates and glasses reverberating as they come and go from tables — all these sounds bouncing around the cosy walls, transforming this hidden little gem into a living, breathing thing that transports you somewhere far more exotic.
The chefs at Nueve combine authentic produce from Barcelona, Madrid, Córdoba and Jaén, with fresh meat and fish from local suppliers to shape a tapas menu that throws out an array of showstopping dishes that merge tradition with innovative Mediterranean-inspired creations.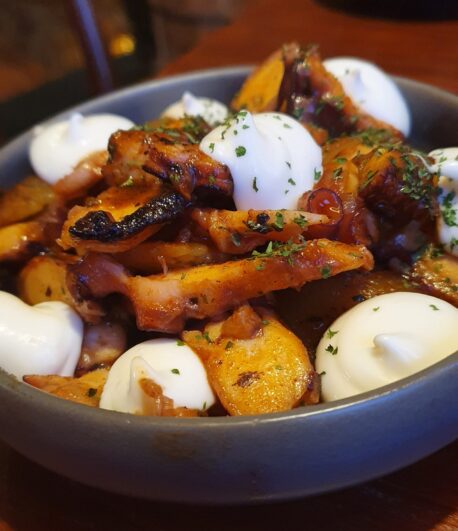 Take the Pulpo — hefty heaps of perfectly grilled octopus dancing around between fluffy slices of sweet potato and crunchy pine nuts. An instant classic, and immediately one of my favourite dishes in Manchester.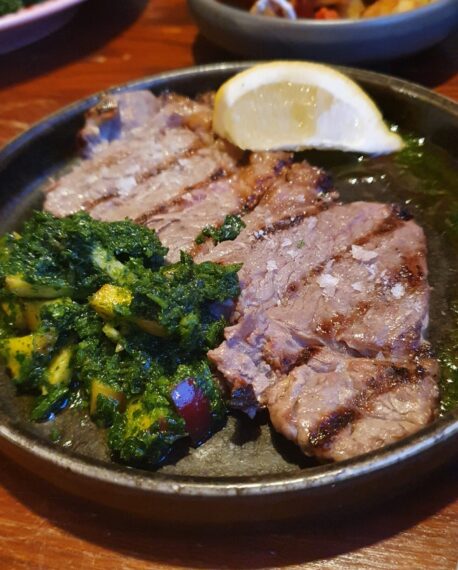 The Ternera a la Plancha is another stunner — chargrilled sirloin with that enticing smoke and salt-laden crispy outer, that when broken gives way to buttery pink steak, accompanied by a vibrant green mojo that complements in spectacular fashion.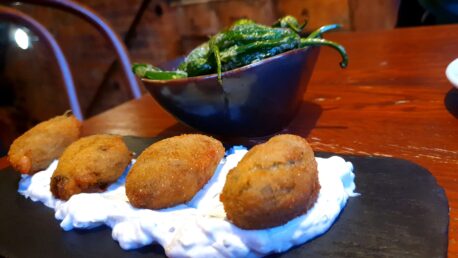 Of course, the classics are there to play a vital supporting role. Endless orders of sea salt-crusted Padron Peppers and gloriously golden Croqueta de Idiazabal (Idiazabal cheese with spinach), piping hot and oozing with flavour when breached. At no moment does the quality threaten to dip.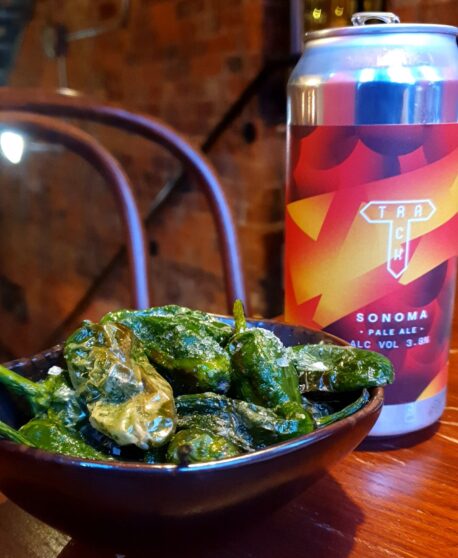 A gorgeous balance of authenticity and adventure, Nueve pairs exceptional food with a lively, welcoming space that's a quite wonderful place to pull up a chair, and you should absolutely go as soon as you can.
Fri 15 Jul, Nueve, 9 Barlow Moor Rd, Didsbury, Manchester M20 6TN
Words:

Bradley Lengden

Published on:

Tue 19 Jul 2022