That's right, Christmas menu season is upon us once more—meaning eating until you need a long lie down is firmly encouraged.
Revealing their own plans for the festivities, Zouk will be serving up authentic Indian dishes that'll no doubt offer some much-needed warmth right throughout the chillier months.
Whether it's a hearty lunch, flavour-packed banquet or Christmas Day dining, the Chester Street spot has you covered.
Zouk's Tiffin Lunch
Two curries, a starter, fluffy pilau rice and a freshly baked naan bread all served on a festive platter for just £12.50 make this the perfect lunchtime treat.
Throughout December the Tiffin menu will change weekly, featuring curries like Chicken Lmlee, Laal Maas and Lamb Karahi alongside vegetarian options which include Palak Paneer and Chole Masala.
Take a look the weekly Christmas tiffin menu here.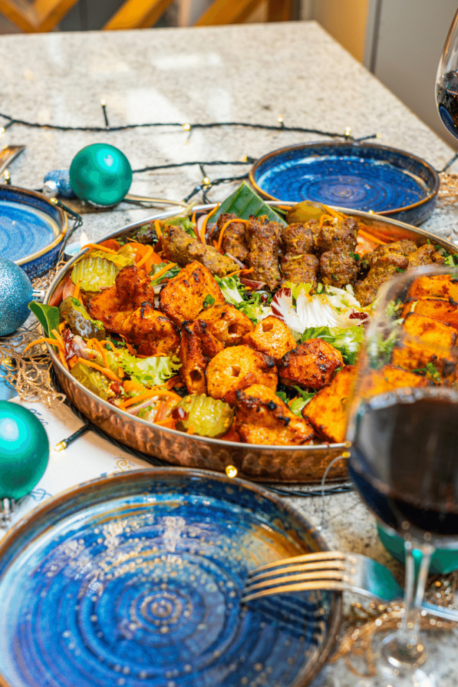 Party Banquets 
In India, a party isn't a party until the food arrives—and that's the sentiment that has been called upon for Zouk's banquet menu.
Designed to be shared with friends and family, each course delivers an explosion of flavours. Menus have been crafted to suit a variety of budgets and taste, catering for meat-eaters, vegetarians and vegans alike.
Prices start at £23 per head. Dishes typically include a mix off popadoms, starters, main courses & sides as well as desserts, all of which are served on platters and in traditional curry dishes, making them an ideal choice for group events.
Christmas Day at Zouk
Fancy a Christmas with no cooking or washing up?
Zouk are on-hand to provide a show-stopping five-course menu that features the venue's best-loved dishes, along with a few seasonal twists.
From Berry Biryani to their famous Butter Chicken and succulent slices of Roasted Lamb Raan, give yourself the day off this year.
Zouk's Christmas Day menu
Aperitif
Glass of Prosecco
Popadoms & Pickles
Appetizer
Samosa Chaat – A traditional Pakistani chaat with a delicious fresh samosa, tamarind sauce and raita
Starters
Methi Malai Tikka – Chargrilled chicken marinated in cream, spices and fenugreek
Spicy Prawn Pakora – Delicious juicy prawns cooked in a slightly spicy batter
Kashmiri Lamb Kebab – Succulent minced lamb and Kashmiri chilli kebabs coated in breadcrumbs
Mains 
Chicken Berry Biryani – Basmati rice cooked using the traditional method from the Provence of Sindh with potatoes, spices, garam masala and winter berries. Served with raita.
Butter Chicken – Barbecued chicken breast cooked in a buttery sauce with gentle spices & cashew nuts.
Raan Roast – A roast like no other. Tender leg of lamb marinated in papaya, ginger and cardamoms and then slowly roasted until the meat can be pulled off the bone. Served with spiced Indian potatoes.
Zeera rice and freshly baked naan bread.
Dessert Platter
With a mix of traditional Asian desserts and Zouk specialty desserts.
Coffee and Mints 
Vegetarian and vegan options are also available upon request.
Reservations of up to nine people can be made online for any of the Christmas menus, head to the link below to do so. For groups larger than 10, contact the restaurant manager on manchestermanager@zoukteabar.co.uk with details of your request.
A Manchester Wire Partnership post
Mon 13 Dec - Fri 31 Dec, Zouk, 5, The Quadrangle, Chester St, Manchester M1 5QS
Words:

Bradley Lengden

Published on:

Wed 17 Nov 2021