From spicy six-course Christmas Day dinners and dessert platters to exclusive Lunch Tiffins and season-long festive banquets, Zouk's newly revealed Christmas dining menus offer an indulgent escape from the clattering kitchen chaos this winter.
Starting from just £30, Zouk's lavish Christmas Party Banquets begin with a selection of sumptuous starters including Chicken Imlee, Seekh Kebab and Onion Bhaji, with a choice of mains ranging from Chicken Tikka Masala, Lamb & Spinach and Tarka Daal to Chicken Jalfrezi, Lamb Rogan Josh and Red Goan Chicken across the three menu options, each served with naan bread and rice. For £5 extra, you can add a dessert to any banquet menu.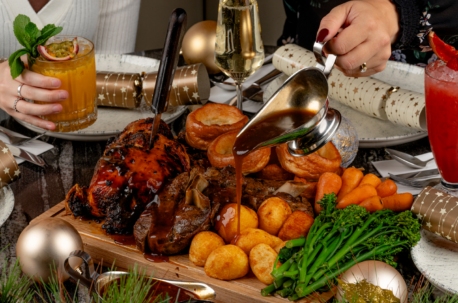 On Christmas Day, Zouk hosts a special afternoon of festive delight with a one-off £75 banquet, which commences with a glass of prosecco or Shloer, followed by poppadoms and pickles and a variety of starters including Chicken Imlee, Samosa Chaat and Kashmiri Lamb Kebab. For mains, diners can choose either a Butter Chicken, Lamb Rogan Josh or Tarka Daal curry platter, or an Indian-infused traditional roast platter featuring Roast Chicken Raan or Roast Lamb Raan served with Yorkshire puddings, seasonal vegetables, roast potatoes and spicy gravy. For the final course, Zouk's sublimely rich dessert platter includes Mumbai Mess, Chocolate Brownie, Baklava and Barfi, an irresistible traditional desi fudge.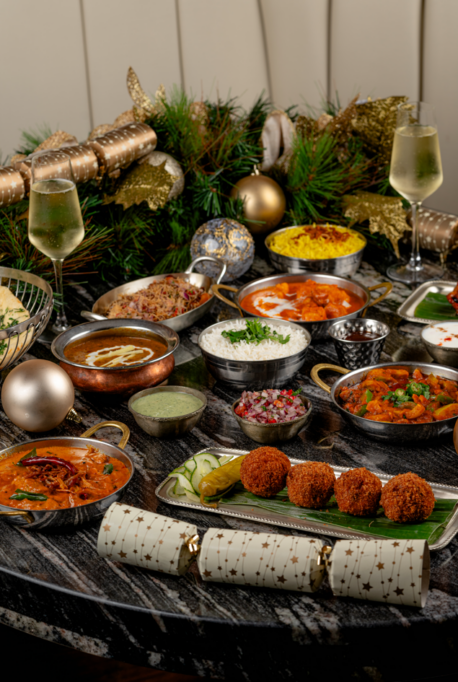 Available every weekday between 12 and 4pm from Mon 27 Nov to Fri 22 Dec, Zouk's beloved Lunch Tiffin returns to provide 'quite possibly the best-value Christmas lunch in Manchester' at just £17.50 per person. Featuring a new menu each week, the festive favourite with a South Asian twist comes with an assortment of dishes including Butter Chicken, Lamb Laziz, Chicken Imlee, Black Pepper Lamb, Malai Methi Chicken and more, while vegetarians can enjoy everything from Scrambled Paneer, Samosa Chaat and Bindi to Tarka Daal, Paneer Tikka and Bengan Masala.
For more information, bookings and full menus including specific Lunch Tiffin listings and Christmas Party Banquet options, click here.
A Manchester Wire Partnership post
Zouk Tea Bar & Grill , Unit 5, Chester Street, Manchester, M1 5QS, Tel: 0161 2331 090

zoukteabar.co.uk
Words:

Wolf McFarlane

Published on:

Thu 5 Oct 2023