Manc brewing favourites Cloudwater have teamed up with beloved Ramsbottom tapas spot Levanter for a ten-week residency at Piccadilly's Kampus neighbourhood.
Each weekend will see the thriving new area host patio parties with laid-back disco vibes, alongside Cloudwater's freshest pours and the Levanter's mouthwatering Spanish bites.
Running from Fri 15 Apr-Sun 26 Jun, every weekend will celebrate a different global hotspot—from California beach sounds and upbeat Mexican Cinco de Mayo festivities to Irish folk parties and painfully cool NYC jazz.
'The Cure' will be an authentic Spanish brunch, served every Saturday and Sunday from 11am, featuring a rotating menu from Levanter and Cloudwater's special Bloody Mary cocktails on tap, using a different base spirit and garnish each week to fit the theme.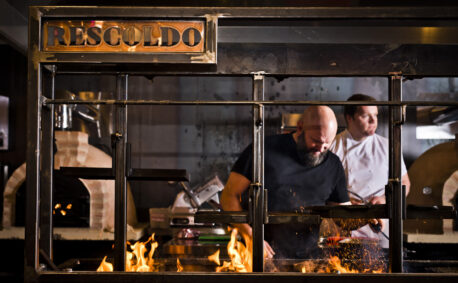 Cloudwater will be sticking around too, after they recently announced plans for a huge new flagship beer hall at Kampus.
More details are expected in the coming weeks, though here's what we know of the residency so far:
Manchester Long Bank Holiday (14-17 April)
Known Manchester DJs and homegrown city favourite beers
Spanish house music, specially imported Basqueland beers and cider, plus Record Store Day pop-up featuring indie record shops selling and spinning hot records.
California Bank Holiday (28 April – 1 May)
Beach soundtrack, surf rock and hip hop, with guest beers flown in.
Cinco de Mayo celebrations, with traditional décor and Latin party vibes.
Fresh imported beer from our neighbours, folk music, spoken word artists and stalls.
Eclectic mix of Jazz in all its forms, paired with beers from the best NYC breweries.
Fresh beers from Toronto's finest, including Bellwoods, Sonnen Hill and Goodspeed breweries.
The Queer Ju-Beer-lee Festival Bank Holiday (2-5 June)
Celebrating the Best of British in honour of Queen Liz! Party bags and street party at the ready, pouring fresh beer from the Queer Brewing Project.
Fun-twist on a Portuguese party, with Fado and Flamenco tunes, with port-infused Bloody Marys.
New England USA (16 –19 June)
Levanter dishes with beers from some of the highest rated breweries in the world.
Manchester closer (23-26 June)
Manchester favourites to celebrate our home town, with back-to-back tunes!
Fri 15 Apr - Sun 26 Jun, Kampus, Aytoun St, Manchester M1 3GL
Words:

Bradley Lengden

Published on:

Fri 25 Mar 2022