The Great Northern's Community Kitchen on the Square returns this weekend with a trio of outdoor dining experiences presented by Eat Well MCR. Having previously hosted the likes of Evuna, South Manny Flavas and Salvi's in their brand new and bespoke al fresco kitchen, the Community Kitchen's inaugural September event will invite local healthy eating experts Eat Well MCR to curate three-days of foodie goodness.
The fun starts on Friday 4 September with Things Palace, a casual pop-up dining experience featuring a carefully curated menu developed by Lorcan Kan which takes its cues from the chef's Malaysian heritage and time spent in South East Asia. Expect salt and vinegar crackers (£2), Congee, featuring slow cooked jasmine rice, chilli oil, mung beans and furikake seasoning (£6), and traditional Malaysian chicken and potato curry, the Kari Ayam (£8).
On Saturday 5 September, ARMR Store will be serving up hearty Caribbean-inspired meals such as jackfruit burgers (£6.49), roast broccoli and pumpkin curry with rice, peas and slaw (£7.95), and oyster mushroom wings with BBQ glaze (£6.49). ARMR Store is a community-focused health-food-shop, based in Ardwick, providing easy local access to plant-based foods alongside art, music and culture.
On Sunday 6 September The Creameries is serving a range of indulgent meal options and snacks, including grilled ogleshield and sauerkraut sandwich (£6), and rabbit pie with black peas and vinegar (£9), alongside a selection of red, white and rosé wines (from £5). The Creameries, based in Chorlton, has a reputation for seriously good food. Chef and owner Mary-Ellen McTague also founded Eat Well MCR in April 2020, using The Creameries kitchen and restaurant produce to cook meals for NHS staff and people in need across Greater Manchester. Since then over 20,000 meals have been made by Manchester's best chefs, restaurants and hospitality professionals for Eat Well MCR.
Throughout the weekend, visitors will have the option to add a voluntary £1 donation to their bill which will go towards helping provide meals to those in the local community. Similar to previous weekends, drinks will be available from event sponsors Estrella Damm and also Didsbury Gin who will be selling their new pre-mixed gin and tonic cans. The Great Northern's Community Kitchen on the Square is also sponsored by United We Stream. Find out more by visiting their website or by exploring this weekend's menus below: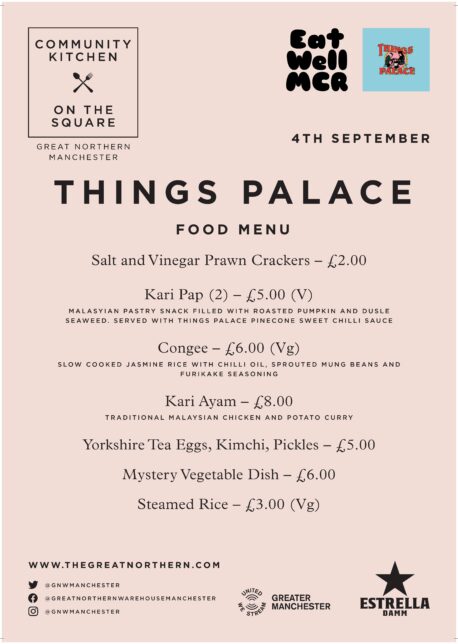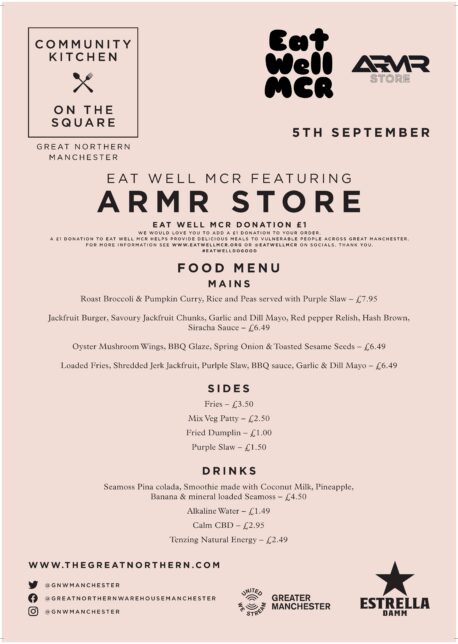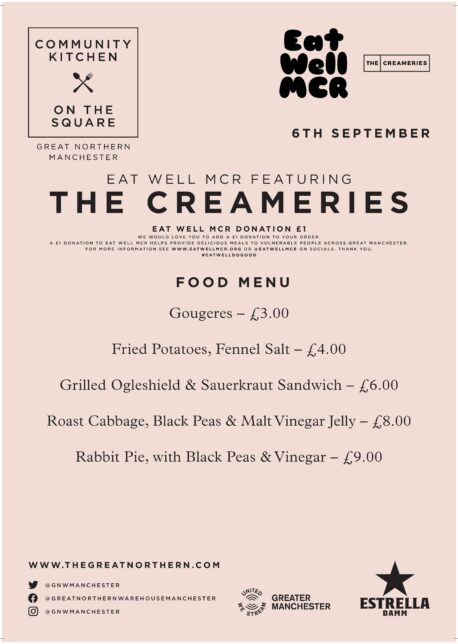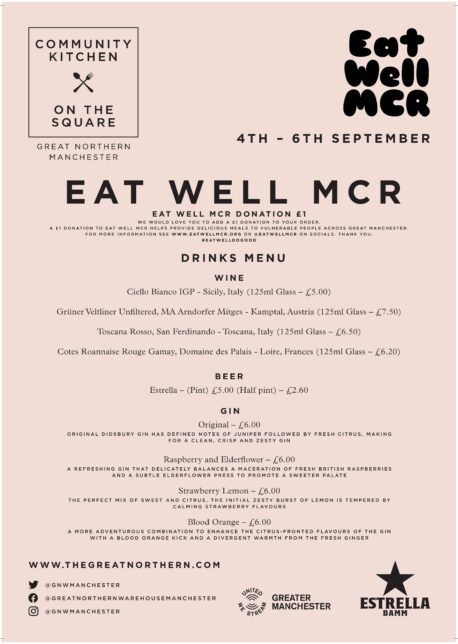 Words:

Edward Lane

Published on:

Wed 2 Sep 2020